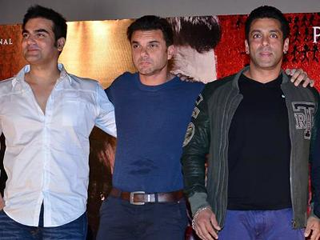 The Khan brothers will come together to root for Nawazuddin Siddiqui, the hero of Sohail Khan's upcoming film.
Salman Khan will be joining brothers Sohail and Arbaaz Khan for the trailer launch of Freaky Ali produced by Sohail Khan Productionz and directed by Sohail Khan. The brothers are coming together to root for their 'hero' Nawazuddin Siddiqui at the unveiling of the film on Sunday. And the actor is naturally elated with the support he is getting from the Khan brothers. "It's great that Salman bhai is supporting my film, in fact the support of all three Khan brothers is overwhelming!" he exclaims.
Talking about the unveiling of the film and whose idea it was to bring the three brothers together for the trailer launch, filmmaker-actor Sohail Khan says, "Arbaaz bhai and I are part of the film and Salman bhai a part of the family."
Ask if his film will turn Nawaz into a hero and he adds, "Nawaz is a great actor, and for me an actor doing a great character comes before him being a hero. He has a natural golfer's swing and his dedication makes him a pro. I feel safe as the captain. My brilliant cast and crew made my work easier and the job look good."
As for Nawaz, he is equally thrilled with working with both Sohail and Arbaaz with whom he shared a great chemistry on and off camera. About his director Sohail, Nawaz describes him as, "calm, spontaneous, with a great sense of humour".
Besides Nawazuddin and Arbaaz Khan, Freaky Ali also stars Amy Jackson and will release on 9th September.