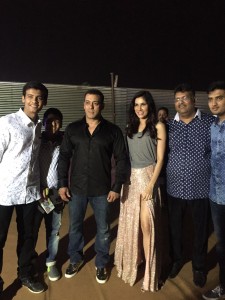 Salman Khan took the stage recently in one of his first live concerts in Surat and the superstar was accompanied by some of the most gorgeous faces of Bollywood. Sonnalli Seygall, being one of them, had a great time in her first big performance with Salman Khan watching out for her.
Sonnalli was going to open the show and was well-prepared with back-to-back rehearsals but she was still very nervous as this was going to be her first big show and she was entrusted with the responsibility of opening it. Salman, obviously, knew that and tried to ease her out and encouraged her to put forward her best… which Sonnalli certainly did and to her surprise Salman was backstage watching the whole performance and was all praises about it. Talking about the incident Sonnalli said, "It was my first big performance and I am super happy that Salman has supported me once again." The actress first time being around the release of 'Pyaar Ka Punchnama 2', where the superstar took to Twitter to wish Sonnalli all the best.
Sonnalli, surely is a lucky girl with someone like Salman looking out for her!