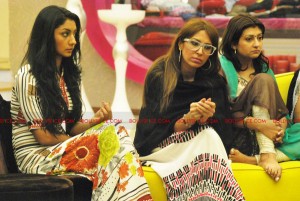 With Salman Khan returning to co-host the Aapka Farmaan episode of Bigg Boss with Sanjay Dutt, it would be interesting to see, if his 'good friend' Mahek Chahal can get away with her new-found arrogance on the reality show.
Ever since her nomination this week, Salman's girl has been unnecessarily fighting and arguing with most contestants in the House. This week, she dramatically attacked new Housemate Siddharth Bhardwaj over petty issues and patched up with him later.
"Whether it is her ego or insecurity, Mahek is surely being unreasonable and coming across as artificial; just like Pooja Bedi. She may be doing all this to save herself from the eviction. But she needn't worry about that when she has Salman Khan's influential hand over her," says a source.
Some time ago, it came to be known that the Norway-based Mahek is special to Salman. It was revealed that the superstar not only recommended her name for his earlier films Wanted and Main Aur Mrs. Khanna, but also for Bigg Boss.
According to reports, when Mahek got a call from the makers of Bigg Boss, she had already packed her bags and readied herself for the show, assuming that no one could ever refuse Salman's recommendation. She was right!
Now, whether Mahek is getting too big for her boots is not as important as the bigger question: Can the Salman connection save her from eviction? The other five Housemates nominated this week include Pooja Misrra, Raageshwari, Juhi Parmar, Amar Upadhyay and Shonali Nagrani, while Pooja Bedi, Laxmi Narayan Tripathi, Shradha Sharma, Mandeep Bevli, Vida Samadzai and Shakti Kapoor are safe for the time being.