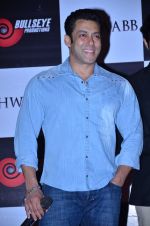 As one of the most profitable actors in Bollywood, Salman Khan's films are often commercial blockbusters that gross over Rs 100 crores at the box office. But despite ruling the industry, the actor of Jai Ho also shows consideration for small filmmakers and claims that small budget films deserve more opportunities to be released in theatres.
Salman recently attended the music launch of the film Khwaabb as a strategy to promote this sport drama, scheduled to release on May 9. At the event, the actor said, "Yes, I always want the small budget films at least the ones which have a good content like this film Khwaabb. It is a pity that small budget films do not ever see the light of the day." He also expressed his willingness to assist filmmakers to carry out their projects. "If I like the script and anyone comes forward to seek any help from me, whatever small help I can render I try to do it", the actor added. Salman got actively involved in the production, as he helped editing as well as found a music director and a singer for the film.
The star also praised courage of filmmakers for engaging in such a risky business. "People make small films with a lot of passion, they put their own money in it and if these films are not supported, then they would never see the day of light and hence, lot of money is lost. For big films, this is a very small amount but when somebody is putting in his own hard earned money there, then it makes a lot of difference. There is passion, hard work and money."
Khwaabb is not the first film backed by Salman Khan. The actor earlier produced Vikas Bahl's Chillar Party, which went on to win 3 National Awards, for Best Children's film, Best Original Screenplay and Child Artist's Award.