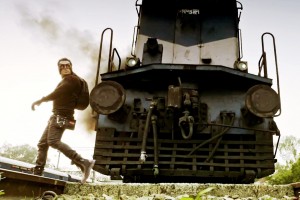 The Salman Khan starrer Kick, is a film that has been creating a huge buzz for all the right reasons. Right from the initial trailer, one would notice that there is a very prominent and cool scene, where Salman is riding a bicycle and then seconds later, strides casually in front of a moving train.
In a recent TOI article, they reported that director Sajid Nadiawala (who is making his directorial debut with Kick) shot this particular scene in real-time. This meant that not only Salman, but the entire crew had to film the scene with such finesse in the time frame given to them. It is no wonder, that this scene has been dubbed as one of the most stylishly shot action sequences ever! This scene occurs in the film, where Salman's character, 'Devil' is admist a bicycle chase.
This entire chase sequence, is said to be one of the longest ever sequences in a Bollywood film. It has even over taken Shah Rukh Khan's chase scene in the film Darr. According to a recent IBtimes article, it is said that the makers of Kick are planning to add this scene in the Limca book of records, as one of the longest chase sequences ever, in a Bollywood film. This chase sequence will take place through various landmarks and will be a treat for audiences to watch.
It is also no surprise, that this particular scene, has most certainly captured the hearts of all Salman fans.
Kick releases on 25th July. Stay with BollySpice for all the updates!