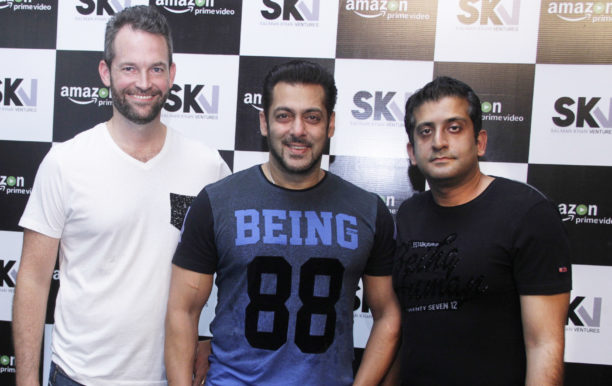 Salman Khan is going Amazon Prime in a first-of-its-kind, worldwide exclusive content deal. This landmark deal with the Sultan of Bollywood makes Amazon Prime Video the exclusive streaming home of future titles of Salman Khan commencing with the recently released Tubelight. All films from Salman Khan Ventures released after Tubelight will premiere exclusively on Amazon Prime Video first, straight after the theatrical release and two months before Satellite/Television broadcast or any other form of distribution. Apart from the new releases, existing blockbuster titles like Bajrangi Bhaijaan, Kick, Jai Ho and Hero will also be available on Amazon Prime Video.
Salman Khan said, "Amazon Prime Video reaches over 200 countries and territories and I am happy to collaborate with Amazon Prime Video and expand the reach of Indian cinema. Fans of Indian cinema will discover my movies on a new platform and the platform will also help new fans discover our cinema."
Check out this fun annoucement by Salman
Nitesh Kripalani, Director and Country Head, Amazon Video India, said, "Salman Khan is the biggest star in India with a massive worldwide appeal, having played roles and iconic characters that are loved by audiences across the world. We, at Amazon Prime Video are elated to announce this epic, ground-breaking global deal with Salman. This is another big step to change the way how Indian customers consume entertainment with Salman's movies coming first to Prime Video customers, before their television broadcast."
James Farrell, Head of Content, Prime Video, Asia Pacific, said, "Salman is a huge star with a massive global fan following. This exclusive worldwide Prime Video streaming deal with him is one of the biggest star deals to have ever been done in the world. India is a top priority market for Amazon and we believe that this love India has for films, the passion, the energy and the talent of India needs to be on a worldwide stage for global audiences to see."
More about this exciting venture in this video
Amazon Prime Video has the largest selection of latest and exclusive movies and TV shows, stand-up comedy, ad-free across Indian and Hollywood movies, US TV shows, top/popular Indian and international kids' shows, award winning Amazon Original shows along with content from top Bollywood, regional, Indian and international studios – all available in one location/service.
To watch these and other new release Hollywood and Bollywood movies, US TV shows, kids' programming and Amazon Originals, please visit www.PrimeVideo.com or download the Amazon Prime Video app today and sign-up for a Prime membership.