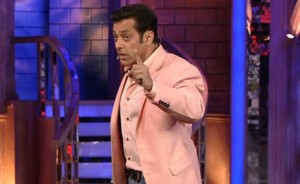 Film stars are known, perhaps even expected to be mingled in not only controversies, but to throw dramatic temper tantrums. Checking these boxes completely is Salman Khan.
The Bollywood star does not need an introduction and neither does his (in)famous temper.
Having already been in the news last month for losing his cool on a star-struck fan who clicked a photograph of him on a mobile phone, Salman Khan is back in the news for a similar cause.
Recently, according to Zoom, Salman Khan lost his temper at media persons photographing him during a shoot for his latest film Jai ho.
The angry Khan became so infuriated at the press who "barged in" onto the film set, that he asked younger brother Sohail Khan to confiscate the media cameras. Cameras were handed back once the shoot had been completed.
Despite being reminiscent of naughty school kids having some peculiar item confiscated during class, the media persons should count themselves lucky.
This time, Salman Khan did not throw the camera like he had thrown the shocked fans mobile phone, but he only demanded that footage be deleted.
Khan had flared up in 2012 at reality TV show Sa Re Ga Ma Pa's makers, when an incorrect baby image of him was shown through a slideshow; he threw a fans mobile phone as he was pestered whilst driving away from visiting Dilip Kumar in hospital; and this time, he became angry at having his shoot interrupted.
Reasons that are understandably irritating- yet perhaps the star should realize that losing his cool portrays him as an unreasonable, hot headed and frankly an "angry" (not so young) man.
However, Khan also very recently lost his temper at actor Kushal Tandon who disrespected actress Tanisha Mukherjee in the Big Boss house. He advised Tandol that one's mistakes are engraved on people's memories.
In this respect, hats off to Salman Khan for advocating respect for females.
However, perhaps the angry Khan should heed to his own advice and keep his turbulent temper under check before he is tangled in yet another controversy in the public mind.