Salman Khan. He made his acting debut 23 years ago with a minor role in Rekha starrer Biwi Ho To Aisi, had his first commercial hit with blockbuster Maine Pyar Kiya a year later. Salman Khan has gone on to star in some of Hindi cinema's most successful films such as Hum Aapke Hain Kaun, Pyaar Kiya Toh Darna Kya, the National Award Winner Dabangg, and the recently released Bodyguard. Ahead of his schedule in Dublin and fresh from his surgery in America, Salman charmed the London press that had gathered for a special round table conference with him. Dubbed the Bad Boy of the Indian Film Industry by the press, all I can say is the media present was putty in his hands.
On his surgery
"I am sick of speaking about how I am feeling" was his first line for the evening. I can understand why. Only Salman Khan and God know how many times he has been asked that question by everyone who knows him and how many times he has answered it. He spoke candidly about the procedures he underwent for his surgery to 'fix' his nerve and spinal problems and mentioned that he would have to return for round two of the procedure later in the year. "I am not going to tell anyone I am going this time though" was his declaration.
"It was the script that attracted me to Bodyguard initially," began Salman before talking about his pairing with Kareena Kapoor. A jodi that has given two flop films previously. He mentioned how people thought that the pairing was 'manhoos' and they were being called the 'panothi couple' and gave examples of their previous films their, Kyun Ki and Main aur Mrs Khanna.
When asked what it was like working with Kareena, he said he had a 'blast working with Kareena'.
What was it like working with director Siddique? Salman answered it was good and that he is a "very nice guy and incredibly chilled out." He went on to mention that Siddique had already made the film twice. "He started with the Malyalam film, then he got into the film with me and now Venkatesh is making a Telegu version. Siddique has made a hell of a lot of money from one film. I am very happy for him."
Talking about the 'Phalwan Dance' that featured in Bodyguard, Khan mentioned that he had performed a similar dance when he was a child. "My chachas and father are all phalwans and wrestlers and they do that in Indore. It was in my mind but kahin pay dimaag say nikaal gaya tah (at one point I forgot it). We heard the song in Patiala for the first time and then during the making of the song there was a guy and he was standing really far away and I saw him performing it and told him tera yeh step toh gaya (this step of yours is gone)."
I asked Salman, if he wasn't an actor and was a bodyguard in real life whose bodyguard would he be and why? A question that was not expected kept him quiet for a few seconds, but I was given a response that proved that this Khan is nothing short of charming, 'Yours, I will be your bodyguard,' making me blush quite furiously and the rest of the media cheer. 'Aab Spicy answer doun? (Shall I give a spicy answer now?) he continued. 'I would be Katrina's bodyguard' An interesting answer don't you think?
Chitchatting about the success of Bodyguard, a film that has broken records set by Dabangg, Khan stated that he felt the exact opposite of the way he felt when he had disasters like Kyun Ki, God Tussi Great Ho or Main aur Mrs Khanna. He mentioned that he felt the film was successful because "you guys went to watch it!" He continued, "When some people see the movies on DVD or TV they say bahut aachi picture hai, kyun nahin chali (it's a great film, why didn't it do well)? The response is simple. Abhay nahin chali kyunki tum log nahin gaye dekhne kay liye, kyunki phookhat ki har cheez aachi lagthi hai. (It didn't do well because you all didn't go see it, and when it's free everyone likes it.)"
He went on to talk about how films had changed and the audience had also changed. The films now had to be larger than life – he stated adding that the promo's had to be interesting. "The strange thing is when you put up a promo, and the promo looks kick ass, the audience knows arre iss promo kay andaer jitney bhi best shots film main hain who daal diye (all the best shots from the film were put in this promo), they understand. How?!? I guess like we understand. It's the same thing. The audience is intelligent now. You only do the kind of films that you want to watch or do."
On up coming projects Ek tha Tiger, Sher Khan and Dabangg 2 and the National Award
"The shooting for for Ek Tha Tiger begins in Dublin in 3 and ½ weeks," Salman said. When asked about the choice of location he mentioned that it was a Yash Raj decision and a leading lady had been confirmed.
Talking about Dabangg and Dabangg 2 Salman mentioned he found out about Dabangg winning the national award through BBM, "Yeah, I saw a picture of Arbaaz and he was all suited and booted, I was very happy for Arbaaz."
Dabangg 2 is scheduled to go to floor after Ek Tha Tiger and an untitled project that was being produced by Sohail Khan. "It is penciled in for Diwali next year."
When asked if we would ever see Salman Khan in a negative role, Khan shook his head and said no. "I don't feel the need to do that. I do all my negative roles in films, but make them look positive."
Conversing on Sher Khan, Salman confirmed that no leading lady had yet been confirmed for the film but said that it was a very difficult film to make which is why Dabangg 2 had been pushed back and Sher Khan bought forward. "Sher Khan is on a huge scale and lots of special effects and costumes so it needs time. That is why we have taken it ahead of Dabangg 2."
When asked if he would be turning his hand to direction any time soon, Khan replied in the negative. "Arbaaz is directing, Sohail is directing as well. I will be producing more films though." He went on to reveal that the production of films would have to be thought through very carefully and projects would be carefully selected as Salman Khan's Being Human would be involved with the projects, so the projects would need to be child friendly. "Not that Dabangg or Wanted weren't, I am just trying to work on an amalgamation of Chiller Party and the type of films I do."
On Ash King
"He is superb, he is really good" was his instant reaction. However, on learning that Ash King was among the press, Khan immediately requested a chair for King and asked him to join him for the Q&A session putting Ash King on the spot. King commented he wasn't sure why he was sitting beside Khan but revealed that he met Khan for the first time when he was a child and it was a dream comes true for King to provide the vocals for Khan. King went on to mention that he noticed that in the film industry a lot of songs get recorded and then an actor such as Salman Khan went and heard the song and decided what he thought, which was how King's song 'I Love You' was selected. Recorded in January, Salman Khan gave it the final go ahead a few months later.
King said, "When Pritam said reege che (meaning yes in Bengali), the song is in the film, I said are you sure? Pritam responded that he (Salman Khan) has taken the song in the film, I initially said whatever. I went back home and the song got played and I didn't realise until about a month later and I was talking to my friend and I said, I just sang for Salman Khan. It's no joke, that's one of my dreams."
Asked to sing a song, Ash King obliged after some coaxing with an acapella of 'I Love You' from Bodyguard. Salman Khan on the other hand was unable to join in citing his surgery as a reason.
On Being Human
He said we had seen the T-Shirts, and we had seen the Rs 1000 T-Shirts, the fake ones – but stated he didn't have an issue with the people who bought them or sold them. His problem was with the people who manufactured them "because they know it is a fake. They don't care that they are making fakes especially when they know it is for the benefit of the country – e.g. providing education. He said that knowing that and continuing to manufacture them was crazy.
He went on to mention that Being Human was the achievement he was most proud of in his life to date. "Films are like – ah you know that guy, Salman, he's done that film, let's remake that film. That's all it is. The trust is something that will continue to be there."
A topic that has been much discussed in the press looks to be on the mind of the two leading actors and the director as well. Some positive revelations were made that may possibly give us all some hope.
"The strange this about this movie is that everyone has seen the movie on DVD but no one has seen it on screen." Salman went on to explain, "When the film released it was just done Friday, Saturday, Sunday. Monday the film was down."
He also mentioned that he had suggested releasing the same film again in the cinemas. However, Aamir Khan, Raj Kumar Santoshi and he had been wanting to do this film for the longest time but there had been a 20 year gap between the first release and what would now be the sequel. As there had been such a gap, he felt that the sequel had to be 21 times better than the first films.
Salman revealed that something was being worked on and Santoshi, who he regarded as one of the best directors in the industry, had something in the pipelines. He also went on to say that Santoshi would ensure that the sequel would be twice as funny as the original and that he was sure that both Aamir and he would be a part of it.
We can continue to live in hope!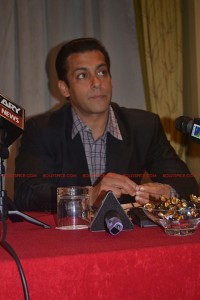 On remakes of south films
South Indian Bollywood remakes have become synonymous with Salman Khan of late. With Wanted, Ready and Bodyguard all performing well at the box office, Salman explained why he didn't have an issue with it.
Declaring that he never watched the original version of the film, Salman stated that for him a remake was a script that was written and that a story too had been "tried and tested". "The people and audience are not the same. If a Telegu movie, a Tamil movie or a Malyalam movie script comes to me, our fans have not seen those films."
He also explained why he felt there was no point in remaking a Bollywood film, saying that they were slightly different, that the treatment provided to each film was different and that everyone would already have seen a version of them, be it in English with subtitles or a dubbed version.
"So it doesn't make any sense," he stated matter of factly. "I use the remake basically as scripts. A lot of our movies, especially my dad's films were re-made there, Dabangg is being re-made there, so I am doing the same."
On Hollywood
When asked to talk about any future projects in Hollywood Salman cited he had done a Hollywood film already (Marigold) and it had been a (tongue in cheek) huge hit and for the time being that was it.
When told that there was a lot of interest in Hollywood and the actors from the American Film Fraternity who wanted to be a part of an Indian film, particularly actresses like Julia Roberts and Cameron Diaz who had mentioned they would want to work with him, hewas astonished "kya kahe rahe ho (what are you saying)!"
Asked if there was anyone he would like to work with in an Indian film, he laughed and said, "I have got Kareena Kapoor to work with, I have got Katrina to work with, let me finish that first."
On Inspiration, Marriage and Rumours
"My father is my biggest inspiration," Salman stated quite simply. "Because of his scripts – a good script can make a bad actor look good, for example, me. I was just a new comer and then Maine Pyaar Kiya happened. I am still benefitting from that film. Main abhi tak us ka kha raha houn. Bees saal say kah raha houn. Kareena toh 90 saalaon say kah rahi hai (I'm still benefiting from it. I have benefited for 20 years. Kareena has been benefiting for 90 years)," Salman stated much to the amusement of those present. Continuing about Kareena, he said, "Great grandfather say grandfather say father tak (from great grandfather to grandfather to father), you have Aamir Khan and Qyamat Say Qyamat Tak and Shah Rukh and Deewane."
When asked "Aap ke haath kab peele ho rahe hain?" (When will your hands become yellow? In other words, when will you get married?), he candidly responded, "Ladkiyon kay haath peelain hote hain aur ladkhon kay gaal neelain hote hain (Girls' hands become yellow and boys' cheeks become blue)."
He also disregarded any rumours about him starring in a biopic about Rajnikanth though he mentioned he was a huge fan.
Asked who he enjoyed working with the most, he mentioned his Sajaan co–star, Sanjay Dutt. '"The process is enjoyable, the film I don't know. We are working on a film titled Big Boss."
In closing, what can I say about Salman Khan? An actor who has given 4 back to back hits and who has very recently had critical surgery performed, yet he sat for 45 minutes talking to us all very candidly about everything we asked him. He made us laugh, he made us think, and he revealed a little bit of himself. A complete gentleman. I don't think the bad boy tag does him any justice. And if bad boys are like him, then I say the world needs more of them.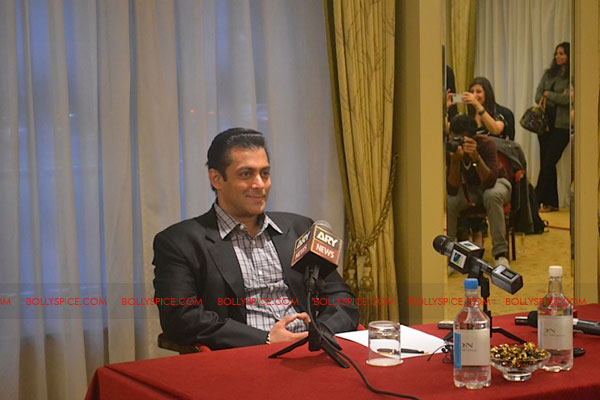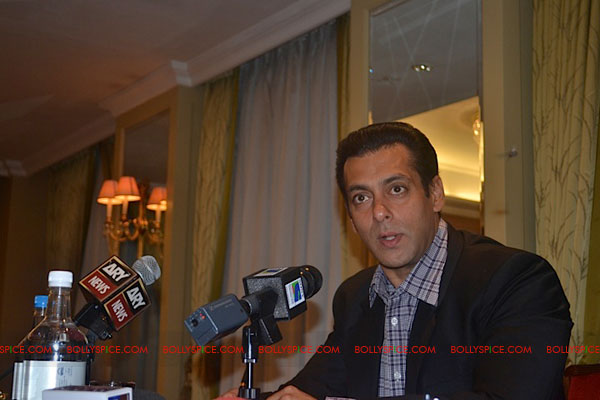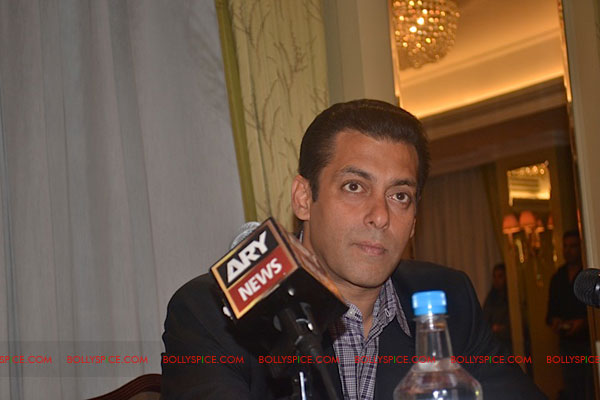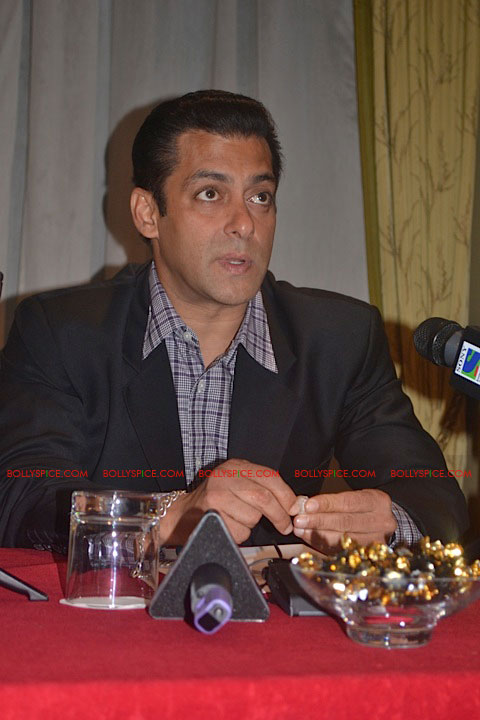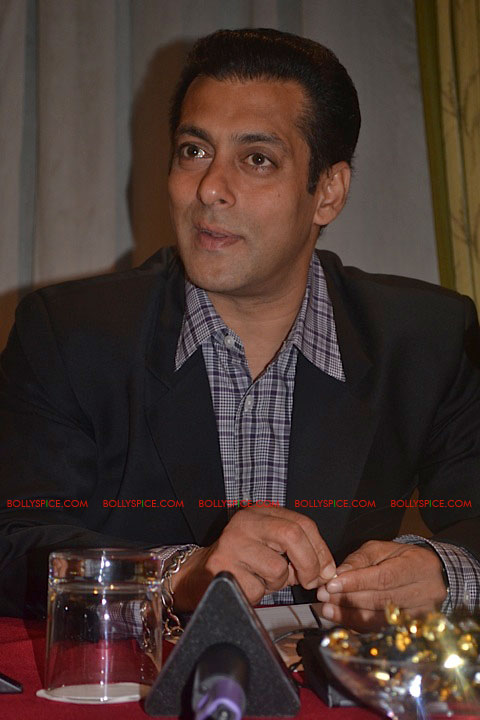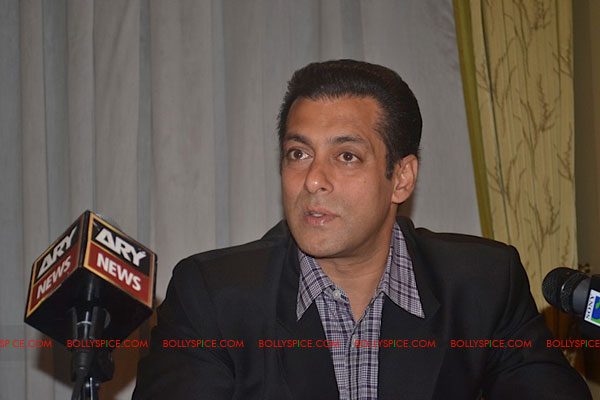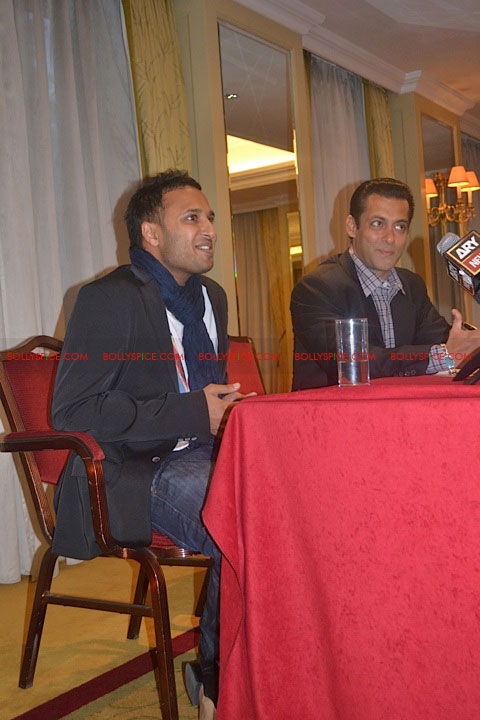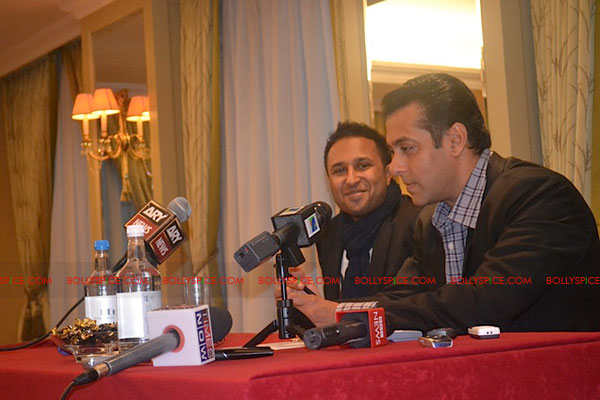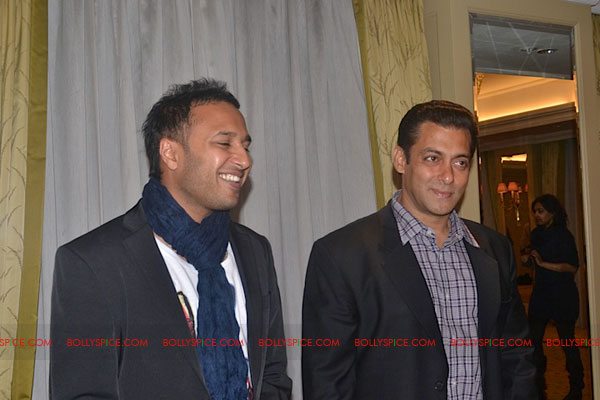 Photo Credit: Sokari-Sade Tomlinson: Sokari-Sade Imagery