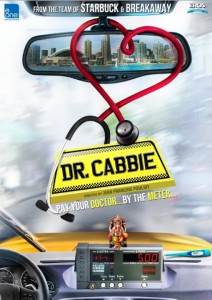 As they say, a start well made is a right indication of the destination. If the official trailer of Dr. Cabbie is any indication, the team is just on the right path to promise a good fun ride which is all set to be unveiled internationally this September. What also makes the film special is the fact that this is Salman Khan's first international presentation, hence ensuring an all around visibility.
Though a teaser of the film was released a few weeks back, it is the full fledged official promo which conveys a lot more about what Dr. Cabbie has to offer. One can see that as a central protagonist (yet again after his debut international outing Breakaway (a.k.a. Speedy Singhs)), Vinay Virmani is in complete elements while displaying his boyish charm that made him noticeable in the acting world. As a youngster who gains a medical degree in India, only to realize that it is not quite valid in Canada, Vinay adds on to the light hearted appeal of the film by turning into a cabbie.
The promo does well in maintaining a light hearted tempo throughout and while it is quite obvious that the film is Vinay's show, there is very good support coming in from Kunal Nayyar (of 'The Big Bang Theory' fame). While he is riotous again, courtesy his many one liner, the glamour quotient is well on display with Adrianne Palicki making a smooth transition from the world of GI Joe to Dr. Cabbie.
While one waits to see Isabelle Kaif's debut with the film (she is present in the promo though), what is most noticeable about Dr. Cabbie is the fact that international director Jean-Francois Poulliot has presented a good milieu of India (as well as Canada), despite this being his first ever film with an Indian connection. Also, he never lets go of the fun element in the proceedings, hence making sure that Dr. Cabbie reaches out to Indian Diaspora as well as international audience.
With names like Salman Khan Being Human [SKBH] Productions along with Eros International and international filmmaking houses FirstTake Entertainment/Caramel Films, Seville Pictures and Telefilm Canada, one looks forward to what does this Indo-Canadian film has to offer very soon.
Check out the trailer!