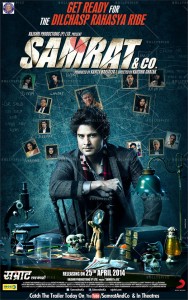 Rajshri Productions known for family dramas is coming up with the first of its kind detective franchisee, Samrat & Co.. Produced by Kavita Barjatya and written and directed by Kaushik Ghatak, Samrat & Co. will be taking the Rajshri banner to a dynamic and contemporary new turn.
The film's trailer was launched at a suburban multiplex in Mumbai a few days ago; the entire cast and crew were present and also all the famous members of Barjatya family too graced the proud occasion.
The industry and fans by large, have found the trailer gripping and true to its claims of the film being 'dilchasp' and intriguing
Known for his strong acting histrionics and intelligence, Rajeev Khandelwal's suave and new look as Samrat and his dialogue delivery is also being immensely appreciated, bringing the actor into a new avatar in Bollywood.
With stylish cinematography and visually stunning shots showcased in the trailer backed with memorable one liner, the first detective flick of this year looks to be one promising film to watch out for!
In fact many of the comments and posts by Rajeev's fans highlight the crispness of the trailer and the suspense that is being built up!
Buoyant by the success of the trailer, Director Kaushik Ghatak says, "Samrat is extremely intelligent, a bit eccentric and a king at heart and Rajeev fits the role very naturally and what you see on the trailer is just a glimpse of the excitement you ll get to see in the film!"
Adds Producer Kavita Barjatya "We are very happy that the trailer has got such a promising response. The film is Kaushik dada's vision and we hope audiences like what we have to present on 25thApril!"
Well, all we can say is get ready for the 'dilchusp rahasya' ride aka Samrat & Co. on 25th April 2014!