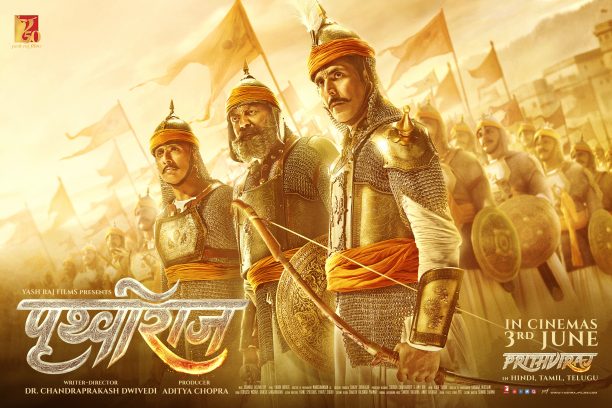 Samrat Prithviraj
Starring Akshay Kumar, Manushi Chhillar ,Sanjay Dutt, Sonu Sood, Manav Vij, Ashutosh Rana Sakshi Tanwar
Written & Directed Chandraprakash Dwivedi
By the time Akshay Kumar dressed as one of Hindu India's most valiant warriors and statesman, gallops into the frame to whisk the woman of his dreams off her feet from her swayamvar, we already know that this film means business.
Too much of it, actually. It is so inured in the rites of authentic storytelling that it loses track of the one thing that such a film must essentially posses: a soul.
Writer-director Dwivedi has the historical data from the 12th Century in place. But the film wears a doleful dull look almost all through its lengthy running-time. Even the colours in the Holi song look dull. Maybe they are Nature-friendly colours.
Since the film bestows so many lavish compliments on Prithviraj, why not make him the pioneer of eco-friendliness as well? The more the merrier for this warrior.
Samrat Prithviraj tries hard to live up to expectations. It tried to get the periodicity right. The war sequences and the opening gladiatorial combat between Prithviraj and the lions should have been the highlights of the intended epic show. Tacky special-effects diminish the work's epic aspirations completely. One wonders what the film's huge budget went into. Certainly not the visual spectacle which at best serves its purpose and at worst pulls the endeavour down to the level of a wannabe Bhansali.
The durbar politics rings hollow as if the banter was planned beforehand. Akshay Kumar constantly conveys the sense of rehearsed drama, as though he were reading from a teleprinter. Sonu Sood as Prithviraj's best friend and Sanjay Dutt as Prithviraj's blindfolded uncle(I am still not sure why he is visually self-impaired) fare far better giving to their roles a heft lacking in the central performance.
Debutant Manushi Chhillar is graceful, but emotionally unequipped to play such a pivotal role. The well-known incident from history here Sanyukta elopes with Prithviraj during her own swayamvar could have aimed for a deeper impact.
The same goes for film which falls short of an epic breadth by a wide margin.