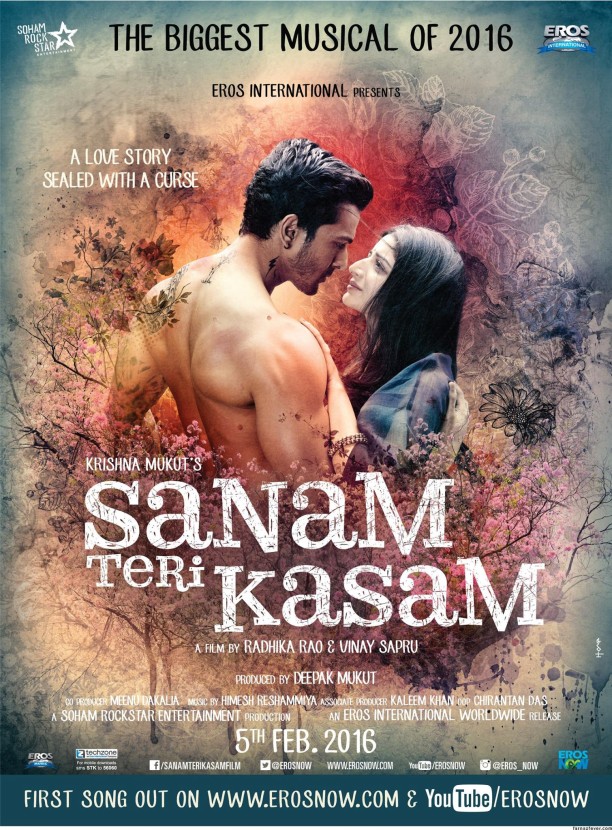 The forthcoming Eros International intense love story
Sanam Teri Kasam
, has been directed by the duo of Vinay Sapru and Radhika Rao. The pair are well versed with directing love stories, having previously given us the films
Lucky no time for Love
 and
I Love NY
. This time, they are launching two newcomers (Harshvardhan Rane and Mawra Hocane) in an intense love story, that is set to a magical music score by the multi talented Himesh Reshammiya. The album features a host of lyricists such as Sameer, Shabbir Ahmed, Subrat Sinha and Himesh himself. The names associated with the album have already set the standards high. Read on to find out more!
'Sanam Teri Kasam' – Singers: Ankit Tiwari & Palak Muchhal, Lyrics: Sameer Anjaan, Music: Himesh Reshammiya
The album begins on an excellent note with the haunting guitar prelude of the title track. There are two versions of the title track and the original version has vocals by Ankit Tiwari and Palak Muchhal. When one begins to listen to the lyrics of the song, one can sense that the song is very much about true love, but as this film is 'a love story sealed with a curse', this too is reflected in the title song lyrics 'Tera Jaana Jaise Koi Badt Dua…' I do feel the song stands out more because of its strong music portions. Ankit Tiwari is back in his 'Sun Raha Hai' range and Palak Muchhal's vocals come and go like a breeze. The entire song flows from start to finish.
'Kheench Meri Photo' – Singers: Neeti Mohan, Akasa Singh & Darshan Raval, Lyrics: Sameer Anjaan, Music: Himesh Reshammiya
The next song of the album ups the tempo and lightens the mood! 'Tu Kheench Meri Photo' features the vocals of India's RAWStar finalists Akasa Singh and Darshan Raval with the popular Neeti Mohan (singer of 'Tu Ne Maari Entriyaan', Bombay Velvet and more!) A situational song, 'Tu Kheench Meri Photo' depicts the moment of drunken craziness of the films female character 'Saru' (Mawra Hocane). This craziness so to speak, is naturally reflected in the song and it definitely gets your foot tapping with the clever mix of Hindi and English lyrics 'Mood Ashiqana Hai…' Darshan and Akasa both perform their parts well and have a very likeable factor to their voices.
'Bewajah' – Singer: Himesh Reshammiya, Lyrics: Sameer Anjaan
After the up tempo number, Himesh slows it down and gives us a romantic ballad called  'Bewajah'. The song has been sung by Himesh who has surprised all with the relaxed and happy tone of his voice. The song has excellent piano and electric guitar arrangements that bind it together. The lyrics have been written once again by Sameer and represent the reason behind the love. After a long time, we have heard Himesh sing in this genre and he excells in every part of the song. The song is already a top favourite amongst many who have heard the album.
'Tera Chehra' – Singer: Arijit Singh, Lyrics: Shabbir Ahmed
Himesh then chooses to give the mike to the ever popular singer Arijit Singh for the romantic song 'Tera Chehra'. The song has a melodious lilt to it and Arijit's voice fits the song so naturally , it is definitely pleasing to the ears! The song has garnered the most views on YouTube due to its promo, and it reflects an intense sequence in the film.
'Haal-E-Dil' – Singers: Sreeram Chandra, Neeti Mohan (separate versions), Lyrics: Sameer
Himesh has once again shown that he is a master of melody when it comes to 'Haal-E-Dil'. The male version has been sung by singer Sreeram Chandra while the female has been sung by the effervescent Neeti Mohan. The music arrangements are different in both songs (Neeti's carries more evident piano and guitar whilst Sreeram's is more subdued and almost haunting). For those of you who followed the popular reality show series of SRGMP c2005, you might remember this song was sung by finalist Vinit Singh of Rock Gharana (Himesh's team). It is amazing to think that this song is over 10 years old but Himesh has given it a wonderful makeover. Haal-E-Dil is definitely a song that pulls at one's heart strings.
'Ek Number' – Singers: Himesh Reshammiya, Neeti Mohan, Lyrics: Himesh Reshammiya
Next up, Himesh not only picks up the mike but he also picks up the pen to give us the uber cool and funky love song 'Ek Number'. A phrase which is popular for referring to the term 'number one', Himesh has chosen to write modern lyrics that youngsters today would easily relate to (whilst reflecting today's social media lifestyle) 'Wikipedia pe check kar le, Google tu search kar le, Baby zara look around karle…' This is his second song as a lyricist (first being  'Hookah Bar' Khiladi 786) and one can feel another potential chartbuster has arrived. Neeti adds freshness through her sultry vocals and in many places of the song, she sounds very Western which adds a unique touch to the song.
'Main Teri Yaadon Mein' – Singer: Arijit Singh, Lyrics: Subrat Sinha
The tempo is then increased once again with the funky and almost remix style sounding track 'Main Teri Yaadon Mein'. Himesh trusts Arijit with this track once again, and he surely delivers! The song has a strong melody against the remixed sound and the heart touching lyrics which are written by Subrat Sinha.
'Sanam Teri Kasam (Reprise)' – Singer: Mohammad Irfan & Palak Muchhal
The album closes with a reprise version of the title track which has been sung by Mohammad Irfan and Palak Muchhal. Mohammad Irfan brings a much softer and more emotive sound to the title song with his vocals. Himesh changes the music arrangement here slightly (compared to the original) but this version too remains musically strong.
This album has a wonderful blend of romantic melodies and after his last superhit album of Prem Ratan Dhan Payo, Himesh shows his versatility as a Music Director once again. If you love listening to Bollywood love songs, then the album of Sanam Teri Kasam is a must listen!
https://www.youtube.com/watch?v=zF6WuFGWoeA