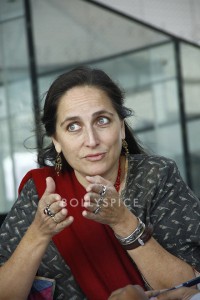 Eminent theatre personality Sanjana Kapoor and environmental conservationist and historian Valmik Thapar's son Hamir Thapar is on the Children's Jury at the 18th International Children's Film Festival India to judge films in the Competition International Shorts category.
The Children's Jury at the 18th Golden Elephant comprises of 15 children from all over India who have excelled in cultural and artistic activities. Five children will judge each category- Competition Live Action, Competition Shorts, Competition International Animation
Aged from 5 to 15 years old, the Children's Jury independently judge their own awards and there is one Children's Jury award per category.
Eleven-year-old Hamir who studies in the 6th grade at the Delhi British School attended the festival only for two days unlike other child jury members.
Sanjana who is on the Adult Jury for the same category is delighted that her son judged the movies in the same category as her. The proud mother said, "Hamir saw a lot of movies on video as he was here for just two days and could not catch the screenings with other children at the cinemas which was sad. I am happy that he took his work quite seriously and he made little notes and took them back with him."
The daughter of Shashi Kapoor and Jennifer Kendall comes from formidable film lineage and she has independently re-defined the face of theatre in India. Her young son, however, has no such inclinations. She reveals, "Hamir has no inclination towards movies or becoming a film director. He loves cars and he is good with words. So he wants to become a car journalist or TV presenter for an automobile show when he grows up. I hope that changes later on!"
The 18th Golden Elephant has over 200 films from over 45 countries screened at various locations in Hyderabad. Over 150,000 children and delegates attended the festival from different parts of India and the world from November 14-20,2013.