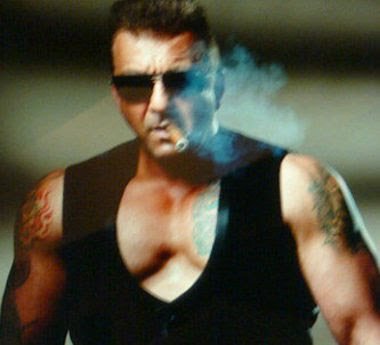 He's cool. He's the rockstar. No wonder people call him the Deadly Dutt. Sanju's first look in Ra.One has been leaked and he looks just awesome. After his stunning Agneepath look, Sanju again flaunts his muscular body, his many tattoos (all of them are genuine!) and stylish shades which just add to his macho look.
According to sources from the sets, Sanju will be doing some tough action scenes with Priyanka Chopra as his sidekick. SRK personally asked Sanju to do this cameo in Ra.One, and Sanju had agreed immediately, refusing to even talk about money. So SRK found another way to express his gratitude for Sanju by donating him an Italian motorbike which had been Sanju's secret wish. To deepen their bond, Sanju recently invited SRK and some friends to his place for dinner after which SRK raved on Twitter about Sanju's hospitality and his beautiful twin babies.
After Sanju's short appearance in Om Shanti Om, this will be the first time Sanju and SRK will share screen space in action.