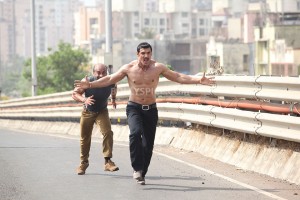 After the stupendous success of Shootout at Wadala,director Sanjay Gupta joins forces with Action Abraham yet again for an epic revenge saga which looks to redefine the action space in Bollywood.
On the lines of Hollywood blockbusters like Kill Bill and Django Unchained, the untitled one-man-army film is amongst Bollywood's most ambitious yet and who better than director Sanjay Gupta to helm the project.
If sources are to be believed, the makers promise to give it a similar status that Sunny Deol's Ghayal had back in the day. The film will also see John Abraham pushing the envelope in the action space, with high adrenaline stunts without body doubles in signature Sanjay Gupta style.
"Sanjay Gupta joins hands with John Abraham for an epic revenge saga which is on the lines of a Bollywood Rambo…..When dabbling with the script the director could think of no one better than John to essay the role of the protagonist since he has the physique to carry off the character and is synonymous with "action"…The film will be made on par international standards with a contemporary linear treatment," revealed a source.