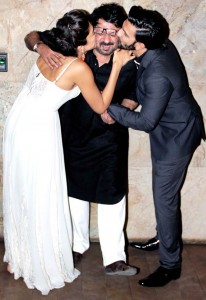 Filmmaker Sanjay Leela Bhansali is no doubt in a very good mood following the commercial and critical success of his latest film Goliyon Ki Raasleela Ram-Leela. Starring Deepika Padukone and Ranveer Singh, the tragedy is a modern Indian adaptation of Shakespeare's Romeo and Juliet, with the inclusion of lavish sets, costumes and music. Despite protests towards the film in India, this has not prevented it from becoming a major success at the box office. In an interview with journalist Subhash K. Jha, Sanjay spoke about how he feels about the success of Goliyon Ki Raasleela Ram-Leela. "It feels liberating. I've finally slept peacefully the whole night. The last few weeks have been traumatic. The protests left me shaken and drained. But now that the film is being so appreciated, you feel all the effort has been worth it. I am happy to see the audience is getting the nuances in the narration. The passion of the entire cast and crew has paid off."
Sanjay previously experienced two failures with the release of Saawariya (2007) and Guzaarish (2010). Both were not successful at the box office, though Guzaarish did acquire some critical appreciation. Speaking about this, Sanjay had this to day. "We had worked with equal passion on Saawariya and Guzaarish. Both the films are as precious to me as Ram-Leela. But somehow our efforts did not connect with the audience in my last two films. That broke my heart. I got back to direction determined to get back my audience. I needed Ram-Leela to reach out to the widest possible audience. Not that I made Ram-Leela to prove anything. I made the film I enjoyed making and I hoped audiences would share my pleasure.
Sanjay also discussed the violence in Goliyon Ki Raasleela Ram-Leela and how he enjoyed creating the many violent scenes that are part of the film. "I loved it. It's very important for a filmmaker to get out of his comfort zone. Violence is such an integral part of 'Romeo and Juliet.' My action director Shyam Kaushal always wondered why I asked him to be part of my films. The most violent thing that has happened in my cinema so far was a slap. This time, Shyam has justified his pay cheque.
Giving his final thoughs, Sanjay mentioned the following. "Ram-Leela has been an exhausting liberating experience. I am so much consumed by the film. I am so happy by the way people have reacted. Everyone from Karan Johar to Rishi Kapoor to Asha Parekhji and Javed Akhtar saab loved it. I am not even thinking of what film I will do next. Right now I am happily jobless."
Goliyon Ki Raasleela Ram-Leela is in cinemas now!