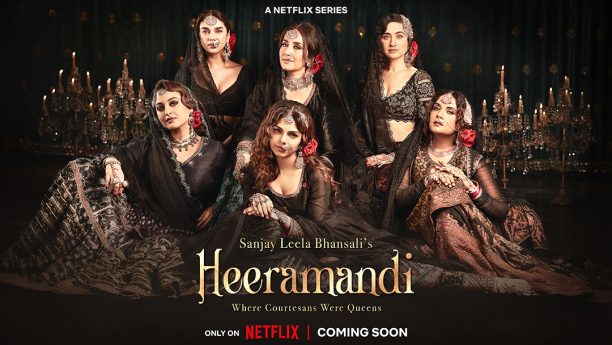 We have your first exciting look into Heeramandi, directed by Sanjay Leela Bhansali. This intriguing period drama, coming soon to Netflix, stars the incredibly talented, all-star cast of Manisha Koirala, Sonakshi Sinha, Aditi Rao Hydari, Richa Chadha, Sharmin Segal, and Sanjeeda Sheikh.
The series explores the cultural reality of Heeramandi, a dazzling district, through the stories of courtesans and their patrons set against the tumultuous backdrop of the Indian freedom struggle of the 1940s. As only Bhansali can tell, the story is a mix of love, betrayal, succession, and politics in the kothas (house of courtesans).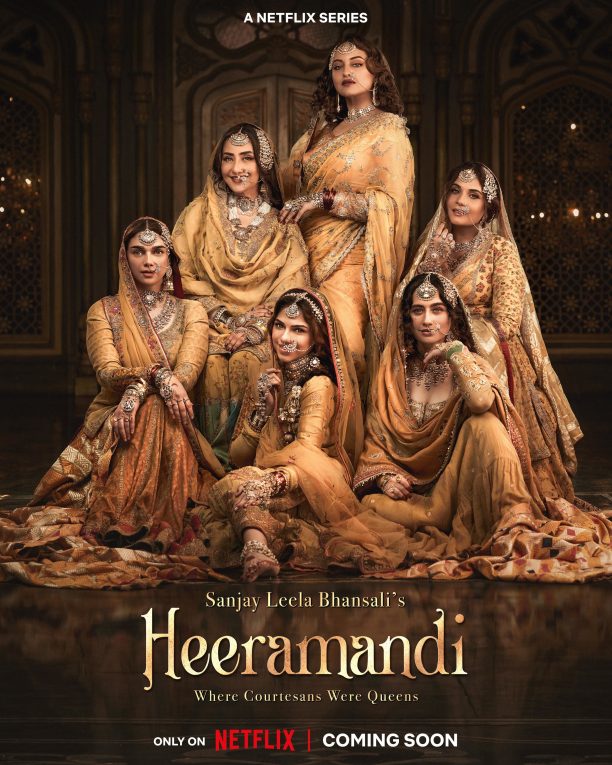 Heeramandi promises Sanjay Leela Bhansali's signature style of larger-than-life stories, intricate and soulful characters, and rippling dynamics of a world rife with conflict during a defining time for India. Like all of the auteur's creations, Heeramandi will have unique compositions and music.
Manisha Koirala says, "The artistry of Sanjay Leela Bhansali comes through once again to bring the charming world of Heeramandi to life!"
Sanjay Leela Bhansali said, "Heeramandi has a special place in my heart as it has stayed with me for 14 years. The most compelling aspect of storytelling for me is the opportunity to represent real characters, especially women, and portray their emotions with interesting nuances. The women of Heeramandi are queens in their own right, and my effort with this story is to bring these historical characters to life with a modern approach. Netflix made this possible for us by nurturing and making an artist like me feel at home."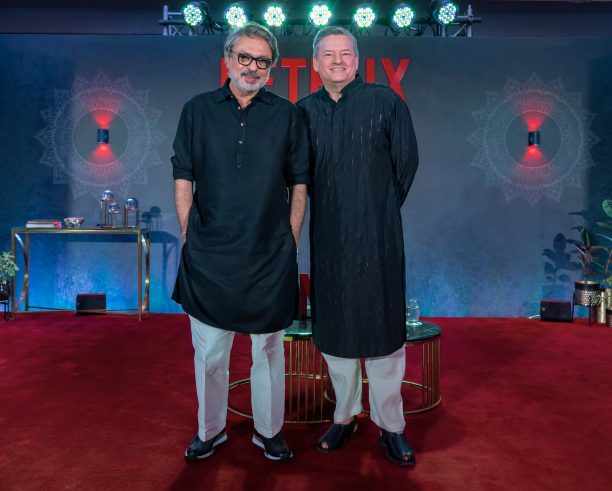 The series was announced as part of a special event with Netflix's Co-CEO Ted Sarandos and Bhansali. The duo came together in Mumbai to exchange insights on the expanding world of Indian and global storytelling, how variety and diversity in stories was evolving audiences' tastes and its impact on viewing habits worldwide. During the chat, the two discussed innovative formats, creative collaborations, and the need to nurture creativity.
The pair indulged in their shared love for films and series, the global scale of their vision, and discussed their ambition to continue creating memorable entertainment that stays with people long after they've experienced it. They gave us a peek into their own all-time favourite stories and inspiration that guided their lives. You can watch the full conversation here.
In praise of Bhansali's vision, Sarandos said, "Audiences want stories that help them escape and connect, and Sanjay is an exceptional storyteller who does both. Heeramandi, like all of Sanjay's stories, is not style over substance but style and substance together. At Netflix, our responsibility to creators is to give them the tools to do their life's work and empower them to bring their vision alive. We're thrilled to collaborate with a visionary like Sanjay and bring the world of Heeramandi to a global audience."
Needless to say, we can't wait to hear and see more about Heeramandi!
Here are some teasers to hold all of us over!
Stay tuned for more Heeramandi news!