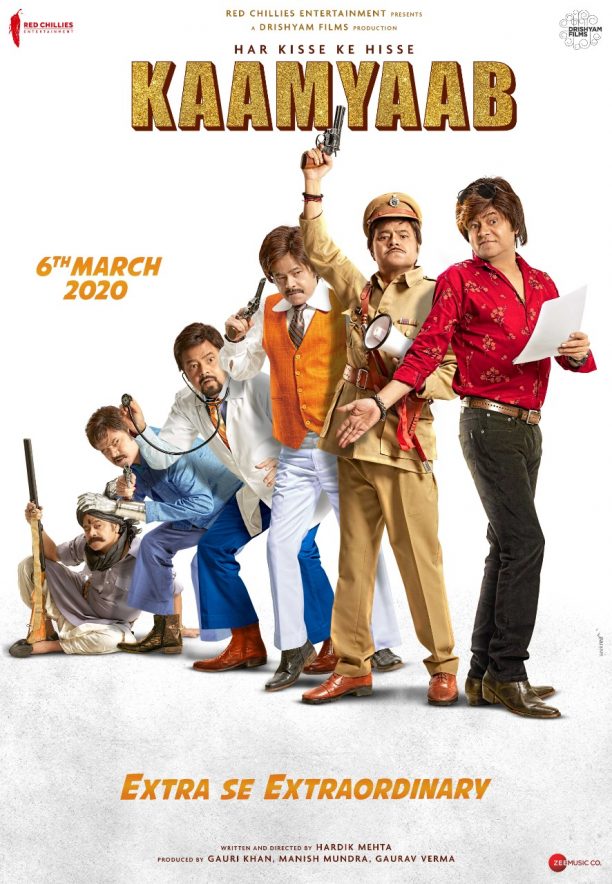 Sanjay Mishra is an actor who never fails to surprise. His gallery of performances ranges from buffoonery (Golmaal) to sheer brilliance (Ankhen Dekhi). There is nothing this maverick performer can't do.
His new film Kaamyaab features Sanjay as a 'character actor' of Hindi cinema on a very strange mission.
"My character Sudheer is a character actor like Kader Khan, Shakti Kapoor or Lalita Pawar, so brilliant that anyone can take him from granted as and how they like. Sudheer has already done 499 films in his career. He is retired and aimless when suddenly something happens, and he wants to do that one last film which would round off his career. He wants to be remembered as the only actor who has done 500 films," says Sanjay Mishra.
Recalling how he jumped out of his seat when the director Hardik Mehta narrated the script to him, he says, "It was the same feeling I got when I heard the script of Ankhon Dekhi, Masaan , Kadvi Hawa, Anarkali Of and Dum Lagake Haisha. Something just happens, and you know this is going to take you to places where you haven't been before."
Sanjay, for whom repetition is death, says, "I can't do the same thing again. Even in the Golmaal series I'm trying to bring a newness each time. I can't be stagnant. It will kill me."
So is Kaamyaab Sanjay Mishra's best film to date? "That I will leave to the audience to decide. When Aankhon Dekhi came out everybody said I couldn't better than. Then when Kadvi Hawa released people said the same. I'd like to think after Kamyaab they'll say the same. After that there is the film Gwalior with Neena Gupta and a film called Death On A Sunday In Patna City directed by Sanjay Sonu which has been shot entirely in Patna which I'm excited about."
About Shah Rukh Khan's Red Chillies Entertainment taking over as co-producer Sanjay says, "Shah Rukh Khan taking interest in a project like Kaamyaab shows how far our cinema has come. There was a time when directors like Shyam Benegal, Basu Bhattacharya and Basu Chatterjee were considered parallel filmmakers. Now films like Masaan, Aankhon Dekhi and Kaamyaab are no longer considered marginal, In fact they are the new mainstream cinema. And the small towns of India are the new Switzerlands of shooting locations."
Kaamyaab is in theatres now.