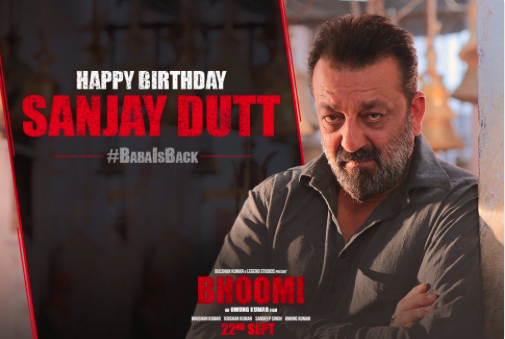 One of our favourite stasr Sanjay Dutt aka Baba is all set to make his grand comeback with the emotional drama Bhoomi! The actor has been missing from the silver screen for a while and we are excitedly waiting to see him awe us with his performance once again.
The makers of Bhoomi have adopted a unique marketing strategy to celebrate his comeback into the wonderful world of cinema. From celebrities like the director of the film Omung Kumar, Sharad Kelkar to rickshawallahs and street vendors, people nationwide were seen sporting Baba is Back T-shirts singing praises and Birthday wishes for the actor. Using the hashtag #BabaisBack numerous videos and images are pouring in on the internet wishing the actor on the grand occasion of his birthday as well as wishing him success for Bhoomi.
Audiences are waiting with bated breath to see their favourite actor back on screen. Such is the level of anticipation; Baba has already spread his charm even before the film hits the theatres.
We can't wait to see Baba enthrall us in the soon to be released Bhoomi!
Here is what the nation had to say –
There is no one quite like him. Love the man he is. Honour to have directed him in #Bhoomi #BabaIsBack pic.twitter.com/sgKoFZPk0d

— Omung Kumar (@OmungKumar) July 28, 2017
Here's wishing you a very Happy Birthday, we all love you Baba. Have a great year ahead. #BABAISBACK @duttsanjay pic.twitter.com/6qEhjq7uLG

— Omung Kumar (@OmungKumar) July 28, 2017
Happy birthday sanju sir @duttsanjay @BhoomiTheFilm @OmungKumar @Vanita_ok @aditiraohydari @TSeries @LegendStudios1@writerraj #BABAisBACK pic.twitter.com/OZH3DCAjtm

— Sharad Kelkar (@SharadK7) July 29, 2017
Happy Birthday Sanju Sir @duttsanjay! All the best for #Bhoomi ❤️ @aditiraohydari @OmungKumar pic.twitter.com/bP3jQlhefJ

— Dia Mirza (@deespeak) July 29, 2017
Ekdum Kadak!!! #Bhoomi #BABAisBack https://t.co/KQ4fxGxtUx

— Riteish Deshmukh (@Riteishd) July 29, 2017
This girl gang is excited for #BabaIsBack, are you too? https://t.co/p8keewFhAN

— Bhoomi (@BhoomiTheFilm) July 29, 2017
#BabaIsBack with #Bhoomi @omungkumar @LegendStudios1 @TSeries pic.twitter.com/g3EHfHqpv2

— Manish Singh (@mzeesingh) July 28, 2017
Bumped into this autowalla! So much excitement among everyone around for @duttsanjay's comeback ?? #BabaIsBack pic.twitter.com/Byg59swbFu

— Malik Sumrani (@ImSumrani) July 29, 2017
Wish u a very happy birthday and all the best for #Bhoomi https://t.co/uoRXtgyoGq

— Anupam Kher ? (@Ianupamkher) July 29, 2017
Others have tweeted
#BabaIsBack #bhoomi #happybirthday SanjuBaba! A new chapter… a new dawn begins! All the best! Love n Respect! pic.twitter.com/bdXj49bsaW

— TERENCE LEWIS (@terencehere) July 29, 2017
This is the best poster I've seen in recent times. Sanjay sir looks MINDBLOWING! @TSeries @OmungKumar @shivchanana @priyagupta999 #Bhoomi https://t.co/EHiUTkMUr2

— Milap (@zmilap) July 29, 2017
Poster ho to aisa ho warna naaa ho ??????????@OmungKumar ths is Killerrrr! @duttsanjay =legendary @SharadK7 @VeerAryan_5 @Vanita_ok 3 cheers pic.twitter.com/nONoMp6t9N

— Karan V Grover?? (@karanvgrover22) July 29, 2017
On his birthday
Here he is
The eternal rockstar#SanjayDutt#Bhoomi @duttsanjay @OmungKumar @TSeries pic.twitter.com/7LNB4aal7g

— Aditi Rao Hydari (@aditiraohydari) July 29, 2017
Mindblowing look #sanjaydutt #Bhoomi #BabaIsBack @OmungKumar @TSeries https://t.co/lo5f6XzDAQ

— Sachin Jigar (@SachinJigarLive) July 29, 2017
Produced by T-Series & Legend Studios, 'Bhoomi' starring Sanjay Dutt and Aditi Rao Hydari releases worldwide on September 22nd, 2017.