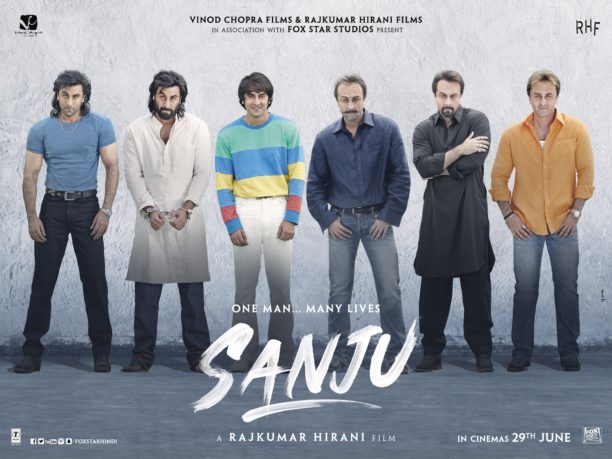 The teaser of Rajkumar Hiranni's most anticipated film ever – Sanju, starring Ranbir Kapoor has shattered all kinds of records as the world eagerly awaits its release on 29th June.
Since the teaser trailer launched on 24th April, the internet was flooded, with the video clocking up more than 150 million views around the world. In fact, the teaser was the highest trending video on Google and Facebook, with Twitter users posting memes and heaping praise on the director, Rajkumar Hirani and the lead of the movie, Ranbir Kapoor. In just 24 hours alone, 200,000 Google searches were carried out as India was gripped on Sanju fever!
One of the most exciting revelations from the teaser is how Kapoor has brilliantly transformed himself into Dutt's double. With different character posters being unveiled online of Kapoor as Dutt, the actor shows why he is one of the industry's most talented and loved. As well as looking the part, Kapoor sounds like it too, with the 35-year-old adopting the accent and expressions of Dutt to provide an uncanny resemblance to the man himself, which will certainly leave you in shock and amazement!
With an ensemble cast which also includes Anushka Sharma, Paresh Rawal, Sonam Kapoor, Dia Mirza and others, it is no wonder the teaser has got everyone talking.
The unbelievable story of Sanjay Dutt is brought to life as audiences will get a fascinating insight into one of Bollywood's most controversial lives. It is safe to say, that with the teaser causing the internet to explode in only a matter of days, the world needs to be prepared for the impact Sanju will create when it is finally released.
Few lives in our times are as dramatic and enigmatic as the saga of Sanjay Dutt. Coming from a family of cinema legends, he himself became a film star, and then saw dizzying heights and darkest depths: adulation of diehard fans, unending battles with various addictions, brushes with the underworld, prison terms, loss of loved ones, and the haunting speculation that he might or might not be a terrorist. Sanju is in turns a hilarious and heartbreaking exploration of one man's battle against his own wild self and the formidable external forces trying to crush him. It depicts the journey of a man through everything that life can throw at him. Some true stories leave you thinking "did this really happen?" This is one such unbelievable story that happens to be true.
ICYMI
SANJU is directed by Rajkumar Hirani and is produced by Vinod Chopra Films and Rajkumar Hirani Films in association with Fox Star Studio. The film releases on 29th June 2018
Here are some other cool posters seeing Ranbir's complete transformation including Ranbir as Munnabhai