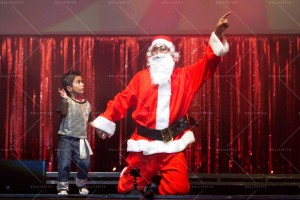 With 2014 Christmas round the corner, to make the celebrations even more grander Shiamak's Winter Funk theme "Santa Goes to Bollywood" was highly appreciated by the London audience this year.
Apart from London and Leicester Shiamak has now successfully spread the joy of dance at Birmingham, Oadby and Brighton. Watford Colosseum witnessed one of the most fun filled funks on 6th December with audiences and performers coming in from Harrow, Wembley, Ilford, Southall, Central London, Leicester, Oadby, Birmingham & Brighton!
The Ladies/ Mums from Harrow and Brighton wooed the audiences with their hidden talent, the 4 year olds were absolutely on a high seeing their favourite Santa Claus, all the beginner students to the advance were outstanding in terms of costumes, co- ordination and performance.
A perfect highlight of the show which enthralled the audience being a dance off on Kat-Jazz (Kathak Jazz) with Shiamak's senior most principal Dancer Aneesha Dalal and renowned contemporary and Kathak dancer Aakash Odedra who has been a part of Shiamak's Dance Company back in the days. Shiamak's London Dance team performed a teaser of his Inhouse production "CONFIDANCE" coming to the UK in March 2015 which completely left the audience speechless, the finale act with 130 dancers gave full justice to a show as Winter Funk.
This was a perfect end to 2014 with some great memories. Shiamak United Kingdom is now looking forward to host even better funks in 2015!