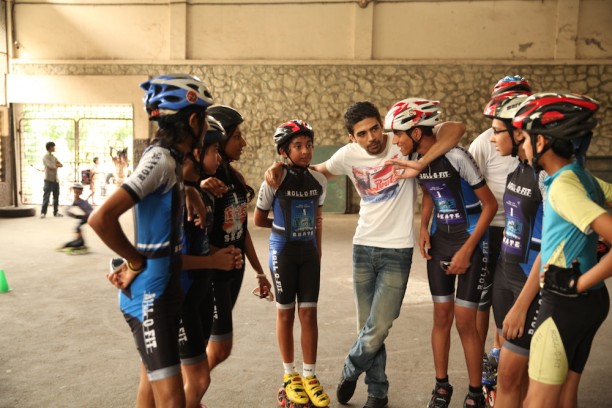 In Amole Gupte's Hawaa Hawaai, which hits theaters on May 9th, Saqib Saleem plays a coach named Lucky, who mentors kids to become in-line skating champions.
For Saqib, working on this film was very different experience because he was the eldest on set. In his prior films he always had senior actors to look up, but this time many child artist were looking up to him for guidance. On the set Saqib was like an elder brother, father and teacher to those kids.
We hear that at first Saquib was little scared because he had never dealt with kids before and was worried that the kids might reject him. However, as they spent more time together they started bonding.
Apparently Saqib used to bribe the child actors with chocolates and chips and then later the kids themselves used to make him buy chocolates and chips. What is so cool is by the end they called him 'Saqib Bhaiya'
Hawaa Hawaa is a story of the triumph of the human spirit; friendship and enjoying the journey of making one's dream come true.
Arjun (Partho Gupte) moves to the big city along with his mother and little sister. Out there he discovers a hidden world of in-line skating through coach Lucky, who mentors kids to become skating champions. While Arjun starts nursing the dream to learn skating under Lucky (Saqib Saleem), his four friends get together to make this dream come true for him. In this endearing story of hope and aspirations, will Arjun's dreams take flight?