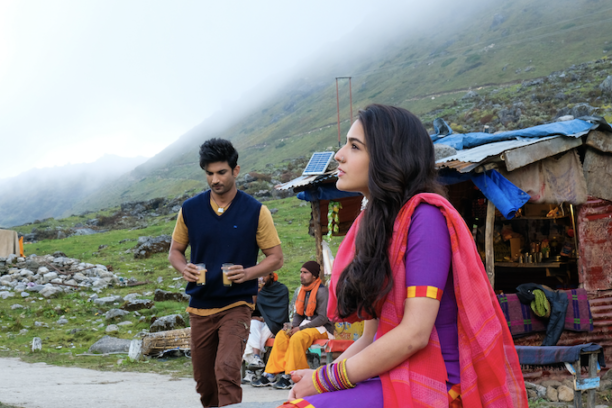 Directed by Abhishek Kapoor, Kedarnath, starring Sushant Singh Rajput and debutant Sara Ali Khan, is based around the love between a Hindu girl, who is on a pilgrim to Kedarnath, and a Muslim pitthoo (people who carry pilgrims on their back) and how they get caught in the devastating floods.
Kedarnath is a potent combination of love and religion, of passion and spirituality. Set on a 14-kilometre pilgrimage from Gauri Kund to Kedarnath, the 2000-year-old holy temple of Lord Shiva.
Mansoor, a reserved and reticent Pithoo (porter) helps pilgrims make an arduous journey upwards to the temple town. His world turns around when he meets the beautiful and rebellious Mukku who draws him into a whirlwind of intense love.
Destiny has plans for lovers amidst the uncertainties of life, nature and broken hearts.
On a recent television appearance, Sara was full of praise for her co-star Sushant, and credited him with helping her improve her Hindi. She was quoted as saying: "I am so glad that you asked me that. I have no idea how I have done this film. I have tried my best but I feel I couldn't have done any of it without Sushant. He has just been the most helpful person I have had. There were days when I was lost and scared as it's the first time I am facing the camera but he has been hand on. Sushant also helped me improve my Hindi and whatever little I speak, he has taught me. He has helped me a lot."
Pack Your Bag Films releases Kedarnath on December 7th 2018.
ICYMI here is the official trailer of Kedarnath!