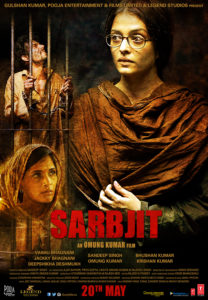 SARBJIT, the true life story of Sarabjit Singh, an Indian farmer who inadvertently crossed the India border into Pakistan, subsequently arrested, jailed and put on death row, is set to release on 19th May 2016 in the UAE and 20th May 2016 in other international markets by Grand Showbiz Media Entertainment.
Presented by Gulshan Kumar, Pooja Entertainment & Films Ltd, and Legend Studios Pvt. Ltd, SARBJIT features an ensemble of acclaimed artists including one of India's leading method actors Randeep Hooda who poignantly portrays the role of Sarabjit Singh, leading international actress Aishwarya Rai Bachchan who essays the role of Dalbir Kaur, the brave, steely-eyed sister, fighting for her brother's freedom and the critically acclaimed actress Richa Chadda who effortlessly performs the role of Sarbjit Singh's wife Sukhpreet. The film also stars Darshan Kumaar in a supporting role.
Sarbjit is directed by the acclaimed director Omung Kumar, who's last release, the National Award Winning biopic Mary Kom, sealed his position as a director with a panache for bringing to celluloid untold life stories. His previous credits also include his role as production designer for Saawariya and Black.
SARBJIT is a stirring tale, depicting a 23-year tumultuous period, which Dalbir Kaur endured trying to secure her brother's release from imprisonment. Her character is a reminder to us all to fight, to hold on and never give up.
The film spotlights many such powerless and exploited victims who are waiting for justice from the over-burdened and crippled judicial system, many of who may have died unknown deaths. Sarbjit Singh is one such prisoner in an overcrowded jail who became a victim of collateral damage of the historical animosities between India and Pakistan.
SARBJIT is set to release on 19th May in the UAE and in other international markets on 20th May by Grand Showbiz Media & Entertainment.