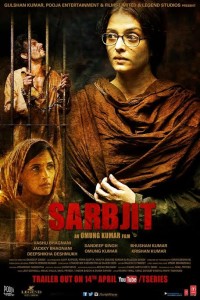 The Randeep Hooda starrer 'Sarbjit', is based on a real life story and also stars Aishwarya Rai Bachchan and Richa Chaddha. The film has been directed by Omung Kumar who's last successful film was 'Mary Kom'. The music of 'Sarbjit', has been composed by a mixture of composers (surprise, surprise!) namely Amaal Malik, Jeet Ganguli and also features a host of new composers such as Shail-Pritesh, Tanishk Bagchi and Shashi-Shivamm.
The film features a very sensitive storyline which also has a lot of pain surrounding it, and this has been well reflected in all of the songs in the album. Despite the album having wide range of composers, all of the songs do carry the same 'sound'.
Salamat – sung by Arijit Singh & Tulsi Kumar. Music by Amaal Malik. Lyrics by Rashmi Virag
The first song to release from the album was 'Salamat'. Romantic ballads are still the flavour of season, and this one is a treat to listen to. Amaal Malik is rising in popularity and he ensures that he keeps improving himself in this genre. The song has vocals by Arijit Singh and Tulsi Kumar who once again, surprisingly work well together.
Dard – sung by Sonu Nigam & Prakriti Kakkar. Music by Jeet Ganguli. Lyrics by Rashmi Virag & Jaani
'Dard' is the song that everyone is talking about. After 'Sapne Jahan' (Brothers) and 'Tu Hi Na Jaane' (Azhar), Sonu Nigam gives us a heart wrenching ballad that epically captures the pain of the films story. With music by Jeet Ganguli (Aashiqui 2 fame & more), 'Dard' definitely appeals to the listener, especially as we do not get to hear this kind of song anymore. Prakriti Kakkar lends her vocals to this duet with Sonu Nigam.
Tung Lak – sung by Sukhwinder Singh, Sunidhi Chauhan, Shail Hada & Kalpana Gandharv
With Sukhwinder Singh on the vocals, you know this song is going to be a lot of fun! 'Tung Lak' is probably the most happiest song of the entire album, and this is also translated in the songs promo. Sunidhi Chauhan accompanies Sukhwinder on the vocals along with new singers Shail and Kalpana for this upbeat traditional, Punjabi folk number.
Rabba – sung by Shafqat Amanat Ali. Music by Tanishk Bagchi. Lyrics by Arafat Mehmood
Going back to the original mood of the soundtrack, we have 'Rabba' which has been rendered by Shafqat Amanat Ali ('Mitwa' Kabhi Alvida Na Kehna, 'Tu Hi Mera', Jannat). 'Rabba' has a haunting folkish melody, with souful vocals by Shafqat Amanat Ali. This is definitely a song that will stay with you, once you have heard it.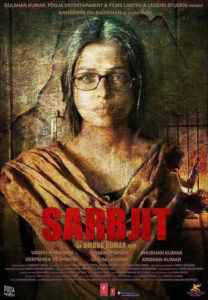 Meherbaan – sung by Sukhwinder Singh, Shail Hada & Munnawwar Masoom. Lyrics by A M Turaz
Sukhwinder Singh renders the almost prayer like 'Meherbaan'. This particular song feels like it is situational, and it carries the earlier flavours that we have heard in the album, yet it also has a qawwali like feel to it.
Barsan Laagi – sung by ShailHada. Music by Shail-Pritesh. Lyrics by A M Turaz
Composed by Shail-Pritesh, 'Barsan Laagi', is a light hearted melody. The song has some wonderful music portions, and is not as melancholy as some of the earlier tracks.
Allah Hu Allah – sung by Shashaa Tirupati, Altamash and Rabbani Mustafa Khan
'Allah Hu Allah' has a chorus sound and returns to the qawwali zone with more than one singer singing the song. Incidentally, it is the first time that I am hearing the singing voices of Shashaa Tirupati, Altamash and Rabbani Mustafa Khan. By now, it is clearly obvious, that music is very important in a film like 'Sarbjit'.
Mera Junoon – sung by ShailHada. Music by Shail-Pritesh. Lyrics by A M Turaz
Shail-Pritesh have the maximum number of songs on this soundtrack, and 'Mera Junoon' is their last offering. 'Mera Junoon' again, reflects the films story well and again, has the similar blend of earlier songs of the album.
Nindiya – sung by Arijit Singh. Music by Shashi-Shivamm. Lyrics by Sandeep Singh
'Nindiya' takes us back to familiar grounds with the melodic voice of Arijit Singh. A lullaby, 'Nindiya' has a light hearted sound and is composed by new composers Shashi-Shivamm. This is a fine debut song from them, but may go unnoticed against the stronger tracks of the soundtrack.
Sarbjit Theme – Music by Shail-Pritesh
The soundtrack closes with the 'Sarbjit theme' which has been composed by Shail-Pritesh. Given the fact that they have the maximum number of songs, it seems only fair for them to create the theme which is a soothing end to a rather intense soundtrack.
Overall, the 'Sarbjit' soundtrack is definitely not for those who love their commercial Bollywood songs. It is a soundtrack which has a detailed, almost intricate music score and it truly reflects the nature of the film.There are times (while listening to the soundtrack), that it really does feel like there are far too many songs, especially when a few of them almost sound very much the same. It is also a soundtrack that is showcasing the work of many new musical talents. We are in a time where we are used to a Bollywood film having barely 5-6 songs, and 'Sarbjit' definitely crosses this mark, yet it is still a fine album and will be appreciated by true Bollywood music lovers.