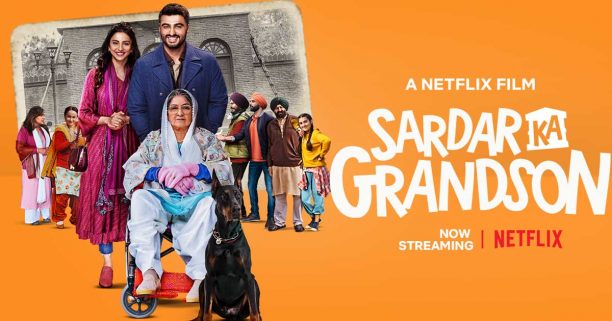 Sardar Ka Grandson(Netflix)
Starring Neena Gupta, Arjun Kapoor, Rakul Preet Singh
Directed by Kaashvie Nair
With Neena Gupta and Arjun Kapoor playing the eponymous parts Sardar Ka Grandson promises to at least regale us with one of those endlessly endearing sagas of family ties… you know, like Prem Kishen and 'Dadaji' Madan Puri in the Rajshri classic Dulhan Wohi Jo Piya Man Bhaye or Salman and his grandfather Shammi Kapoor in Jab Pyar Kissise Hota Hai. Sadly—and I say this with a heavy heart—Sardar Ka Grandson generates as much chemistry between the Daadi-Grandson pair as fire and ice. Ms Gupta, otherwise such an accomplished actress gives one of her career's hammiest performances as a sullen sulky Sadarni Rupinder Kaur (was the role written for Sushma Seth) who wants her dying wish to be fulfilled by her beloved grandson: she wants to see her ancestral home in Lahore.
Yes, this is one of those steeped-in-nostalgia films about cross-border amity that drowns into its own pool of sweetened tears. It also revels in a plot that threatens to collapse under the double weight of coincidences and improbabilities. As far as improbabilities go try this: when Daadi can't go to Lahore(she apparently insulted the Mayor of Lahore once at an Indo-Pak cricket match) her ancestral home is brought to Amritsar by a process known as structure relocation. No one said a building can be moved 50 kms by this cumbersome near-impossible process. But the brainwave hit this film's team so hard that they just decided to go for it, disregarding the basic logistics and practical problems(we are talking about moving a two-storey building from not just one city to another but also from a country completely hostile to the other) hoping that the emotional sway of the idea would be so powerful that all skepticism about the sheer logistics of the main premise would be swept aside.
Regrettably no such miracle happens. For most of its 2 ½ hour length(way tooooo long!) the film remains more admirable for trying to implement a near-impossible idea rather than arriving at any satisfying closure
Along with the 'grand' Daadi-Pota idea with ailing Daadi and wailing. Family plodding along from one saccharine absurdity to another, with the characters in 'Lahore' speaking to one another with every sentence prefixed with 'Janaab', grandson Amreek Singh has his own heart problems.
As Arjun Kapoor's love interest all Rakul Preet Singh has to do is be there for her man. So much for the empowered female protagonist. While one female heroine in this film thinks emotional manipulation at an autumnal age is cute, the other thinks following her man around after he has repeatedly taken her for granted is some kind of a salvation for the post-feminist modern woman.
The performances range from the hammy to the clammy. Redoubtable actors like Kumud Mishra(playing the aforementioned mayor), Soni Razdan(wearing one sourpuss expression throughout the prolonged narrative) and Divya Seth(reduced to playing a pumped up nostril-flaring prop) seem lost in the fumes of bonhomie that swirl in this dreary fairytale confection.
Aditi Rao and John Abraham play the younger versions of Neena Gupta and her husband in Lahore. As absurd as that may sound, this is easier to believe than the whole idea of a home being translocated from Lahore to Amritsar.
For a first-time director Kaashvie Nair has some fresh ideas. All she has to do next time is to make sure the ideas are rooted to at least a semblance of credibility. We know faith can move mountains. But this is ridiculous.