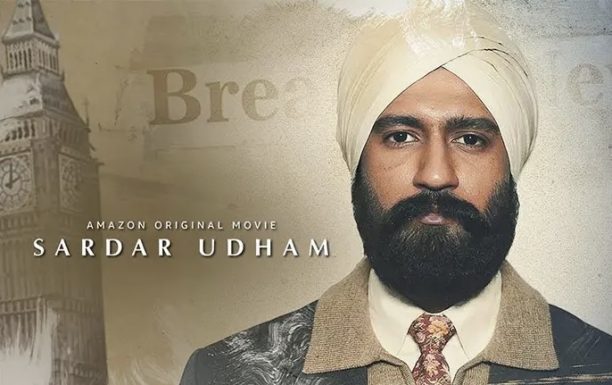 Sardar Udham(Amazon Prime)
Starring Vicky Kaushal, Shaun Scott
Directed by Shoojit Sircar
Where were you on 13 April 1919 when the Jalianwala Bagh massacre happened? And where were you on 16 October 2021 when Sardar Udham, Shoojit Sircar's remarkably mordant film about the Massacre, was released?
Note the two historic dates. One when the historic event actually happened. And the other when the event that created history was recreated in a film that's at once a comprehensive bio-pic and a sharp thriller about an assassination of a dubious political figure, a'la The day Of The Jackal.
From Sunam, a village in Punjab to Russia, to finally London where General O'Dwyer(Shaun Scott, well played) is now busy giving lectures on the glorious days of the British Raj and what a brave and noble deed he performed by ordering the Massacre… "to teach them a lesson."
Now look who's having the last laugh.
For all its anti-British tone, Sardar Udham bravely refuses to demonize the British. In fact, one of the British interrogators of Udham, played by Stephen Hogan is so sympathetic to Udham's crime that he almost ends up looking like a token of reconciliation. Also, I sometimes caught O'Dwyer looking stricken with guilt(or was I just imagining it) before he is assassinated, as he ought to be.
True to its mercurial mood, Sardar Udham follows a capricious timeline. It starts with Udham Singh journeying from his village to London via Russia, then moves through early years where we are told rather airily that he was in love with a mute girl named Resham(Binita Sandhu).
It ends with the recreation of the Jallianwala massacre.And this is where Sircar's film goes from being an admirable bio-pic to a certifiable masterpiece. The last 45-50 minutes of the lengthy(almost 2 ½ ours) film shows the carnage in all its sanguinary splendour. Sircar and his Udham, Vicky Kaushal, pull out all stops as bloodied wounded survivors of the massacre are carted to hospitals. The Massacre makes for a harrowing watch. But you can't take your eyes off the orange-and-red fire and blood, splattered screen.
Cinematographer Avik Mukhopadhyay, director Sircar's long-term collaborator is the second hero of the film. Avik's lenses capture the London of the 1920s with an understated grace. Sircar neither overdoes the pungency nor undermines the immediacy of period details. Every period detail looks just right.
How did he do it? We will never know. The director himself would be hard put to explain the film's pitch-perfect tone, the absolute eschewal of melodrama, the sparing scintillating use of Shantanu Moitra's background score and the remarkable regard for preserving and yet liberating history's mysteries with a visionary's flourish as deft and delicate as the notes of Vande Mataram and just as affecting.
When Kaushal says something as innocently pacifying as "Mere bahot saare British friends hain" he sounds as fringe-friendly as those fake liberals who say, "I've nothing against the gay community. In fact, some of my best friends are gay." With Udham around it's clearly not safe to be a British imperialist. Forget gay.
The performances are in keeping with Sircar's mood of mellow rebellion. While Shaun Scott's General O'Dwyler is caught in all the awkwardness of a political butcher posing as a martyr, Amol Parasher 's Bhagat Singh is ludicrously sketchy. As for Vicky Kaushal's Udham Singh it is a performance laced with grace, tinged with bitterness and defined by a dormant rage.
Indeed Frederick Forsyth meets Richard Attenborough in this astute, if over-long cinematic replication of an assassination that shook the world. The film is punctuated by bouts of indefinable pathos and yet Sircar, a master when it comes to temperate storytelling, exercises an incredible restrain over his potentially unwieldy narration that takes its protagonist here, there, and everywhere.
Sardar Udham is not just a film but an event.