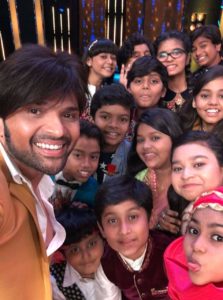 We earlier reported that the sixth season of SaReGaMaPa Li'l Champs gained the highest television ratings, beating The Kapil Sharma Show. According to India Today, the show has continued to remain at the top spot, making it more difficult for The Kapil Sharma Show to reclaim it!
With amazing talent and masti from the little champs, esteemed judges Himesh Reshammiya, Neha Kakkar, Javed Ali, and a host of musical talent in the jury, it is no surprise that the show has a lot to offer. The recent episodes saw legendary singers Alka Yagnik and Udit Narayan feature on the show and their wonderful camaraderie added a special touch.
Himesh Reshammiya is extremely happy with the talent on the show and is often seen giving his musical advice, and predictions on the future of the music industry, to the contestants on the show. He has also already recorded a song with ex-contestant Saiman and Yumna from the show. The Top 10 little champs have now been finalised, and host Aditya Narayan mentioned last week that there is also a wild card entry yet to come!
Keep enjoying SaReGaMaPa L'il Champs every Saturday and Sunday at 9pm on Zee TV.
In association with Himesh-Reshammiya.com