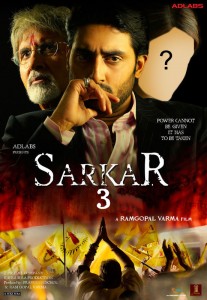 If all goes well, the concluding part of the Sarkar saga would hit the floors in October, 2012. The initial feeler that Sarkar 3 was on the cards was let out by Ramu himself on the sets of Bhoot 2 in Pali Hill, Bandra where he announced, "Sarkar 3 will go on floors this October. The script is almost ready."
Speculations were rife about the Bachchan bahu making a comeback into films with this last installment of the Sarkar trilogy, which is believed to be Ram Gopal Varma's tribute to Francis Ford Coppola's The Godfather series. Ash, who was on a sabbatical during her maternity was rumored to make her grand comeback with Sarkar 3. The buzz is now out that Ash might return to Hindi cinema with either King Khan or John Abraham in the movie Happy Birthday. It was also heard that she might be doing Sanjay Leela Bhansali's Bajirao Mastani with SRK. According to our sources, Ramu has confirmed that Big B and Junior B will be a part of Sarkar 3. Amitabh Bachchan will be seen playing the same grim character of Subhash Nagre this time too. "Sarkar 3 is being planned… Amitji and Abhishek will feature in it but contrary two reports Aishwarya won't be in it… Script is still under progress," tweeted Varma.
Sarkar Raj, which was a second in the series and had seen the Bachchan triad in the limelight, had taken many of the critics by surprise when it made it to the top ten movies in the UK during its release. Sarkar Raj had received a very lukewarm response in comparison to Sarkar which was a box office hit. All said and done, the million dollar question was who would play the role of 'Chikoo' (grandson of Sarkar). According to the sources, Ranbir Kapoor was offered to play Chikoo which to everyone's surprise, turned down. It would now be none other than Hrithik Roshan who would be sharing the screen space with Big B. "It would be nice to see Hrithik Roshan play the role of Chikoo and more interesting will be the Ram Gopal Varma's combination with Hrithik. That'll be an exciting watch", says Abhishek Bachchan.
So, who would take over the Subhash Nagre's legacy? What would Junior Bachchan have in store for us in the final installment of the trilogy? Only time will tell.