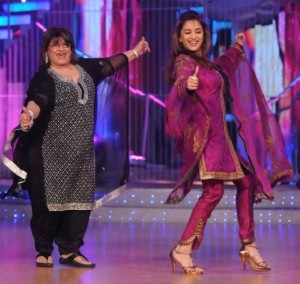 Yes it's true! The legendary choreographer, Saroj Khan is currently on the lookout for a new Madhuri Dixit-Nene!
About her search, Khan states, "My search is still on for the new-age Madhuri Dixit. As of yet no one has come on to the horizon, that is on par with Madhuri. "We think that that is a very difficult task indeed!
So what qualities is Saroj Khan looking for in this 'new' Madhuri? "I am not just just looking for a good dancer but also a woman who can emote. When she dances, others should also feel like dancing, if she cries others should feel like crying. And to make that model, I need that kind of clay which Madhuri is made of."
What does the award-winning choreographer think of other choreographers? "These masters (other choreographers) work is very limited, they just get up, show some moves and then sit down. The rest of the teaching is done by their assistants. In the masters' case, they don't have to dance a lot and that is why they gain weight. All this should not be taken in a negative sense. Dance is still the best exercise for fitness. Because of these workshy dance styles the quality of the dance suffers. Because of the hectic schedules nobody wants to come for rehearsals. I think apart from Madhuri and Aishwarya, hardly anyone comes for rehearsals, which would eventually reflect on the quality on screen."
What about actors and actresses who get the dances wrong?  "If something in the dance is wrong then you should say it, whether it's Salman or Kareena but work doesn't run on just belief," Saroj adds.
So what does she think makes her memorable? "Basically we never did injustice to the dance that is the reason people still remember me and appreciate my work."
Well, we certainly wish Saroj well on her search, but she's going to be very hard-pressed to find someone just like the star Madhuri!