"Itihaas gawah hai, itihaas tab banta hai jab kuch naya hota hai." – Satya (2013)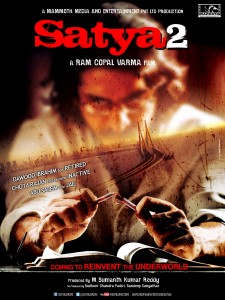 Ram Gopal Verma had made it clear that Satya 2 is not a sequel to Satya, and he has evidently made no attempt of making this film look like a prequel or a sequel too. Satya 2 stands as an independent story about yet another man who aims to redraw the image of the underworld in the present time.
Satya (Puneet Singh Ratn) comes to Mumbai with a mysterious persona to recreate the underworld with his 'intellect'. He believes in conquering the city by not repeating the same mistakes that the old players made. He is calm, but his thoughts are reflected in his eyes as he confidently plans his moves and executes them without the slightest hesitation. With his master plot, his 'soch' and his careful steps, Satya surely creates a lasting impression.
The film definitely has some spark in it, as it begins when Satya lays down a plan with a filthy rich builder Lahoti (Mahesh Thakur), helping him bring down his archenemies. This in turn helps Satya gain Lahoti's trust and he is introduced to the entire circuit that operates underground. Little did they know that this man is here to make them relearn what they know and create his own Company, a joint force that is just a thought. The mystery elements in the first half of the film thrill you enough to want to watch the second half, as the killing techniques have novelty in multiple scenes. The second half keeps the story going strong, as the police team decide to give the Company a taste of their own medicine and go undercover to expose them. The chase between the police and Satya's 'well-constructed' company is quite an interesting one, which equally divides the screenplay between the twists of betrayal and loyalty. Satya's power lies in his ability to think, and the powerful background track does complete justice to this power. RGV has softly tried to show the different sides of Mumbai through his long shots and the cinematography follows the requirement of the scenes accurately.
Coming to performances, Puneet Singh Ratn as Satya is convincing. His character is calm throughout, but his dialogue delivery reflects his strength and ability to take on the world. There is never an extreme emotion on his face, and that is what makes him Satya. Lahoti is an important character and Mahesh Kumar played the role really well. Aradhna and Amitriyaan as Special and Naara have performed their roles very well. Anaika Soti as his love interest Chitra lacks conviction and is very over the top in trying to be 'cute'. I would like to add that the screen presence given to her in two whole songs and otherwise could have been limited. Raj Premi as RK and Amal Sehrawat who plays his son as TK have done a great and convincing job. Another performance to be much appreciated is Kaushal Kapoor as Purshottam, who is the only one that the police force could hand over the exposure of Company to.
Despite having it almost right, what went wrong? To begin with, the concept of Satya 2 is strong and the screenplay is properly placed too, but the dialogues were weak as compared to the dialogue delivery. Satya's character needed to have more powerful punch lines, which the film lacked. The love songs are a distraction and two full songs is a bit too much of screen time wasted. A love angle may have been a vital part to complete the story, but Satya's honeymoon in Kashmir was not needed at all. Finally, the end of the film is downright senseless with a long speech that suddenly went from 'individual gain' to 'welfare of the society' which gives the film a loose end.
Satya 2 may not be appealing if looked at from the1998 Satya point of view, but it does well for itself as a film. RGV left his end with a hint of a Satya 3, however time will tell if that is going to make its way or not!