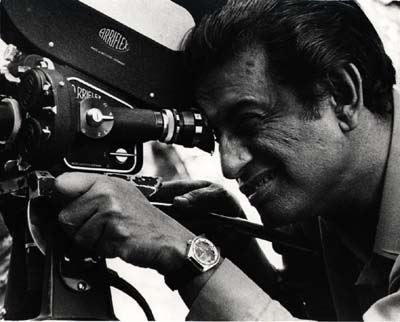 The Indian film industry is probably the most prolific in the entire world. According to the latest count in 2010, India ranks the first in production of movies followed by Hollywood and China. But of the huge pantheon of regional and national Indian stars present in Indian cinema, Satyajit Ray is an icon who cannot be forgotten. His unique perspective on Indian life and his impact on Bengali, as well as, Indian cinema cannot be forgotten.
Satyajit Ray was born 2 May 1921 to Sukumar Ray and Suprabhar Roy. His entire family was steeped in literature, socialism and music. This love for journalism, art and cinema was transferred quickly to the young mind of the growing boy. His father passed away when he was three but his mother always insisted on a world-class education for the boy and he was quickly enrolled in the Visva-Bharati University at Santiniketan, that was set up by world famous poet Rabindranath Tagore. He developed most of his interests in Oriental art traditional Indian art during this period of time. After completing his education, he gained work at the D.J. Keymer advertising agency as an illustrator. But the job did not satisfy his critical and artistic sensibilities. However, when he changed jobs to the Signet Press, he was given complete artistic freedom to design book covers and this made him very happy. Most of his artwork is still around in the form of book covers for popular novels of the time like Jim Corbett's Maneaters of Kumaon, Jibanananda Das's Banalata Sen, and Rupasi Bangla, and Jawaharlal Nehru's Discovery of India. Original artwork from the book covers and theater posters which he created during his spare time are still available at auctions and they are very valuable. During the latter period of his life, he also invested and resurrected SANDESH, a children's magazine. His illustrations and writing for the magazine became his livelihood during his retirement.
His interest in cinema bloomed after he met French director Jean Renoir who had come down to Calcutta to shoot his film THE RIVER.  His first film PATHER PANCHALI became a classic runaway hit in India and abroad and was primarily responsible for focusing international interest on Indian films. There was no looking back after that. Films like APARAJITO, PARASH PATHAR, JALSAGHAR etc were local and international favorites. Local and international film awards followed quickly and Satyajit Ray quickly became a hot favorite on the international art film scene. Although he was internationally recognized, Hollywood created a bad taste for his. His script ALIEN was adapted by Mike Wilson and Satyajit Ray was extremely disappointed. He insisted that he was not paid for the script and he also insisted that his script formed the basis for the hugely famous runaway hit ET which was released later on in 1982. However, he was unable to prove the charges and nothing came of it.
By the year 1984, Satyajit had become bedridden and sick. He was unable to direct at oudoor locations and most of his movies were then shot at indoor sets. These movies became significantly important as they focused on cutting-edge dialog rather than lighting and sets for the mood. However, his health deteriorated quickly in the next nine years. His first and last Academy Award was presented at his bedside two weeks before he expired.
If you know of or own any Vintage Movie Posters dealing with Satyajit Ray please stop by http://ralphdeluca.com/appraisals