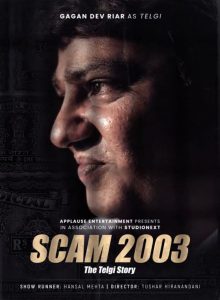 Scam 2003: The Telgi Story, Volume 2 (SonyLiv, 5 Episodes)
For those out there lost in the OTT jungle of gangsterism and scams, Telgi Story Volume 2, produced by Applause Entertainment which began in September , reaches a compelling culmination two months later when Abdul Karim Telgi meets his nemesis.
But at what cost?
For Telgi as played by the invisibly riveting Gagan Dev Roar, trouble kicked in hard when he decided to play the vulgar money flaunter in a dance bar. The five concluding volumes, all showcasing a wealth of plotting excellence without making a song and dance of it, chronicle the sharp and jagged edges of the corruption trap Telgi lays down for the powerful political lobby, coming back to prick him in the places where it hurts the most.
As the saying goes, if you hang around pricks for long, you get pricked sooner or later. As the drama in the second season—can we really call it that since it seems like one season of 10 divided by two — unleashes a feast of fettered fury we realize how easy it is for the immoral social climber to take a corrupt bureaucracy into confidence, only to be kicked hard by the very mouths that Telgi fed with a feast.
For me Scam 2003, The Telgi Story is the ultimate do-it-yourself kit on corruption. The stamp paper scam got bigger each time Telgi's greed multiplied and took monstrous mis-steps. The show scores resounding success in showing the rise of an ordinary cheat of the pickpocket calibre into a national-level scamster. Telgi's self confidence, often misplaced, is confidently brought out by Gagan Dev Riar. He is the man in the torn chappals in a tearing hurry. There is also a violent side to the man, which no one can understand. No amount of wealth can compensate for the loss of the innocence when you set off to be rich overnight. Telgi is no Macbeth. But the blood on the hands is interchangeable.
Season 2 (or Season 1+1) begins with the kidnapping of a Kannada superstar. Remember when Kannada actor Dr Rajkumar was abducted by Veerappan in 2000, during the course of an armed attack on a farmhouse ? The series recreates that crime with a cheek self-assurance. That this incident is shown to Telgi's Waterloo is a connectivity that the series establishes with some confident writing and a nose for the stench of corruption in places where the olfactory nerves don't usually work.
The second-half of the Telgi story is even more engaging than the first, and that's saying a lot. More Applause for Applause entertainment.