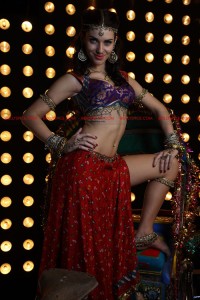 Brit model Scarlett Wilson burned the dance floor at the music launch of Dibakar Banerjee's Shanghai with her item number 'imported kamaria'. Sporting a thigh-slit red ghagra and a purple-gold shimmering choli with traditional Indian jewellery, Scarlett won the hearts of the crowd with her 'imported kamaria' literally.
While the crowd went euphoric over her item number director Dibakar Banerjee said the overwhelmed crowd "It's so big and this is the first time ever I have such a big music release. I am so happy."
However his other stars Abhay Deol and to Kalki Koechlin were conspicuous by their absence. "Kalki and Abhay are shooting for their films and they could not make it. However I have Emraan with me today. Abhay and Kalki are busy and I did not want them to miss their shoot for my music launch. I would have said the same if they were shooting for me. I am not angry with them and instead I am happy that they are hard working actors" he added.
httpvh://www.youtube.com/watch?v=-7Wm0R2yhl4