You know you've watched a good movie when you walk away from the theatre with a great sense of satisfaction. Well that's exactly how I felt after watching Karan Malhotra's Agneepath (2012). Considering it was a remake I didn't really know what to expect, and knew it would inevitably be compared to the original. Either way, Karan Malhotra's film is definitely one of the best movies I have seen till date.
The film revolves around Vijay Dinanath Chauhan (Hrithik Roshan) and his revengeful journey against the malevolent Kaancha (Sanjay Dutt). Everything from the powerful dialogues, thrilling action scenes and suspense elements were played through to keep me on the edge of my seat throughout. Amongst all this, however, I'm here to share with you a particular scene from the film that remains one of my all time favourites!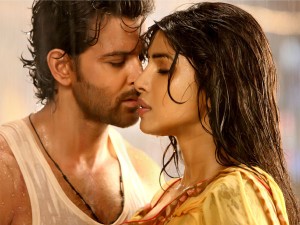 The scene
Vijay's one and only prerogative in life is to seek vengeance. In the second half of the film, however, he has more than one reason to live – for Kaali (Priyanka Chopra). Kaali, a simple minded village lady is recognised as Vijay's closest friend too. Both Kaali and Vijay finally realise their love for each other, but Vijay attempts to brush away his feelings, arguing he can never give Kaali true happiness. Kaali, on the other hand, supports Vijay's revengeful motives and against all odds is willing to marry him. The two lovers unaware of what the future holds fearlessly tie the knot and walk around the sacred fire that unifies them together. At this moment in time the beautiful and soulful melody of 'O Saiyaan' begins to play in the background. I watch the screen with great pleasure as Vijay reaches for Kaali's maang (parting line) to which he delicately applies the sindoor (vermilion). I did feel truly elated! With just minutes into this, however, tension begins brewing as Kaancha's right-hand men are depicted within the same scene too.
Gun shots are suddenly fired towards the couple, their family and friends. Everything changed so drastically before my eyes as the same scene was unravelling into something quite the opposite. Yet I was so eager to find out what would happen next! Vijay suddenly reacts and fires back with a great deal of anger. He searches for Kaancha's men before they escape, whilst I watch in great anticipation as to whether Vijay will be shot. The non diegetic music that played out notions of anxiousness was suddenly silenced by the diegetic voice of Kaali. 'Vijay', she calls out in despair, and the camera pivots towards her as she lies helplessly. Vijay runs towards her, he holds her in his arms and cries in agony. He sees his hands covered in a bed of blood and realises his lover is wounded.
'Issi pal mein jeeliya sab kuch' (I lived my whole life in this very moment) Kaali exclaims. I begin to feel quite saddened by what has come of what was such a beautiful scene. Vijay begs her not to leave him and we as the audience too hope Kaali survives. The scene ends with Kaali's untimely demise and my roller coaster of emotions end with tears to my eyes.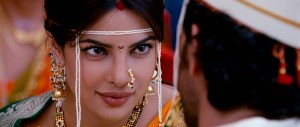 Why I like this scene?
It's one specific scene that has the ability to bring out all my emotions at once! From smiling in joy, feeling nervous, to breaking down in to tears…it's all there. This is the only scene which truly had the ability to keep me visually engaged and emotionally entangled. Kaali lived to marry Vijay and she died knowing she fulfilled her one and only wish. Despite the scene ending brutally, we too should learn to live life in this very moment and fulfil every dream we have before it's too late. It's a scene that does not make an audience watch a lengthy film for such an eminent point to be made. How can you not love this scene?