Yash Chopra's directorial feature Deewaar (1975) is an exhilarating and monumental film. It was both a critical and commercial success at the time of its release. It is one of the many number of films which defines the 'action era' in Hindi cinema and which also reinforced Amitabh Bachchan's status as the 'angry young man.' Deewaar is a story which is centred on two brothers who follow two very different paths in life. Ravi (Shashi Kapoor) is a law abiding police officer who believes that one should act in a righteous manner. On the other hand, his brother Vijay (Amitabh Bachchan) treads on the wrong path and accumulates his wealth and material possessions through illicit means as a smuggler. Remaining adhered to his philosophy of truth and nobility, Ravi does not let his ancestral relationship with Vijay prevent him from doing what he believes to be moral and honourable. It is their stark differences in social values and conduct which segregates the two brothers and creates a metaphorical wall between them. Before you know it, intense drama and action unfolds which will leave you to the edge of your seat!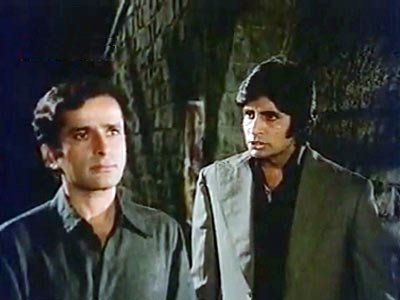 The Scene:
The pivotal and most memorable scene in the film is the powerful confrontational scene between Ravi and Vijay during the second half of the film. They both meet under the same bridge in Bombay where they spent their childhood years living under whilst in poverty. Vijay stresses to Ravi that he has made many gangster enemies as a result of him putting an end to their crimes. He advises Ravi to transfer to another city where he will remain safe and afar from them. But Ravi strongly asserts that his principles do not permit him to leave and will continue doing what he deems to be ethical. Vijay angrily reacts to this by asserting that his righteous principles have done nothing for him whatsoever. All it has done is created enemies for him and provided him with a measly job and salary. Vijay highlights to Ravi how although his actions may have been deceitful, it has given him everything one could possibly desire: luxury cars, properties and immense wealth. Asking him what does he have, Ravi replies with the following iconic line: "mere paas maa hai" (I have our mum). Their mother left in a previous scene to stay with Ravi after having discovered Vijay's illegitimate actions.
What's So Special?
It is perhaps one of the most remarkable scenes to have been produced in the history of Hindi cinema! Chopra no doubt deserves all the credit which he received for this film. The intensity displayed between Kapoor and Bachchan is difficult to erase from one's mind. Moreover, their conflicting identities are brilliantly presented in this particular scene. Just watching this scene alone will give you a clear indication of what the film is generally about. The "mere paas maa hai" dialogue has now attained historical status in India and has often been cited by film stars and film buffs over the years. It is also a line which contains a great deal of substance. It aims to exemplify to the audience that no amount of material objects or money can act as a substitute for a mother. A mother is one of the most precious figures in a person's life and being as close to them as possible can make you feel rich in a symbolic sense. Despite his material and financial success, Bachchan's character was deprived from his mother. Such loneliness can make you feel poor, even if you are living a life of luxury. Hence, this crucial scene in Deewaar is one which exhibits humanism to a great extent and one which viewers will certainly find astounding to watch!