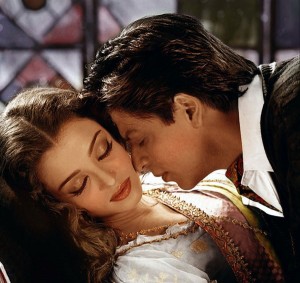 Ah decisions, decisions, so many decisions!  I had the unenviable task of choosing which my favourite Bollywood scene was and as an avid Bollywood fan as you can imagine, I have a lot of favorite films and consequently an unholy amount of favourite scenes.  Trying to narrow it down to just one scene from a Bollywood film, was probably one of the most difficult things you could have asked me – a girl who's been watching Bollywood films ever since she can remember –  to do, but just for all you BollySpice fans, I did it.  One of the most colourful, dramatic and romantic tragedies ever to be made in modern-day Bollywood, Devdas is probably my only favourite Bollywood film in which everything is magnificent;  the sets, the costumes, the characters, the storyline, the songs and of course the actors! Sanjay Leela Bhansali's adaptation of Bengali author Sarat Chandra Chattopadhyay's novel, Devdas is truly awe-inspiring; the sets are amazing and the actors play their part so well, that you can really empathise with them and you feel as if you have a real connection with them. The awards also speak for themselves, as it won no less than 10 Filmfare, 6 IIFA and 5 national and Star Screen awards. It even went on to be nominated for not just 1 international award but 2, as it was nominated for both the Oscars and the BAFTAs!
2012 marks the 10th anniversary of Sanjay Leela Bhansali's 'magnum opus' and as if to reiterate this, Devdas was placed 8th in TIME magazine's '10 Greatest Movies of the Millennium', amongst Avatar,  Crouching Tiger, Hidden Dragon, Moulin Rouge and The Lord of the Rings. What does the director slash maestro think of his film gaining such high international recognition? "Devdas completes ten years and it's a very proud and happy moment for me. For a mainstream Hindi film like Devdas to gain such cinematic recognition and be part of such an illustrious list, is an honour not just for me but for the Indian industry at large."
It is also rumoured that SLB is to celebrate Devdas's 10th anniversary by releasing the film in 3-D, although no confirmation has been given by the director, as of yet.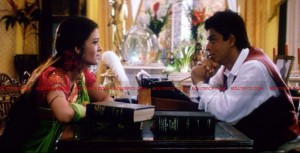 The Scene:
A young, seemingly world-wise Devdas (Shah Rukh Khan) and a naïve Paro (Aishwarya Rai-Bachchan) have been neighbours and childhood sweethearts for as long as they can remember, and they have loved each other since childhood. Devdas has just returned from London after studying there for 10 years, when Paro pays Devdas a visit, wanting to know how the sweetheart for whom she lit a diya (oil lamp) for 10 years looks, under the pretext of sending over food from her mother. Paro goes to see the new Devdas and is secretly dying to know if he missed her. Devdas initially puts on a façade, not wanting to express to Paro his vulnerable emotions for her, but both end up confessing their feelings covertly towards one another towards the end of the scene, and just as they were relishing the moment, Paro's mother calls out to her. Let's get to why I chose Devdas for my favorite scene.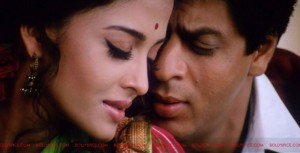 Why It's So Special:
The depth and range of emotions that are portrayed by a talented Aishwarya and Shah Rukh are what make the scene so incredible, and also you really get a sense that these two characters love each other immensely.  When questioned about missing people (Paro hints at him missing her as well), Devdas tells her '…Bas, aur kuch nahin' (That's it, I didn't miss anything else) Paro replies 'Dev aur mein?' (Dev and what about me?) he then changes and fails to keep up with his false façade that he wanted to show Paro, and instead reveals just how much he really missed her by replying 'Jab mein saas letha tha thab thak' (Whenever I breathed). Paro responds with a barely audible 'Isshhh' and the scene ends with the two crying tears of happiness amidst Paro's mother calling her out and ruining the moment.
Paro and Devdas are complex characters, on one hand they love each deeply and cannot live without each other and on the other; they want to keep their relationship away from the scrutinising eyes of their family members, who will do everything they can to try to keep them apart.
Overall the scene is an vast array of emotions, ranging from anger, rage, angst and fear to sadness, regret and above all the recurring emotion on which this film is based; love.