With dozens of films being released every year, the list of my favorite films keeps growing and the number of unforgettable scenes is long. But there is one particular scene that keeps coming to my mind and it belongs to one of the most successful films that has been released in the past few years, so I am about to analyse a scene from Barfi!, directed by Anurag Basu and starring Ranbir Kapoor, Priyanka Chopra and Ileana D'Cruz in the lead roles.
Barfi! was one of the most successful films in 2012, as well as India's official entry for the Best Foreign Language Film nomination for the 85th Academy Awards. The film narrates the adventures of Barfi, a deaf and mute man from Darjeeling, and his relationship with two women, Shruti and Jhilmil. In spite of the controversy and the accusations of plagiarism, the movie obtained several awards and nominations across India, including the Filmfare awards to best film and best actor for Ranbir Kapoor in one of his finest performances so far. Thanks to the actors' outstanding performances and the director's mastery (he is also the scriptwriter), the film offers many scenes that could be included in this section, but I can only choose one!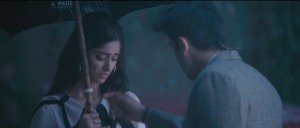 The Scene:
After becoming friends and spending much time together, Barfi falls deeply in love with Shruti and, knowing that she feels the same, decides that he wants to marry her. With the help of his unconditional friend, Barfi writes a letter where he expresses all his feelings and goes to Shruti's house to propose and ask for her hand to her parents. But once he is there he finds out that she has decided to marry Ranjit (with whom she was already engaged). Heartbroken and disappointed, Barfi leaves the house not before expressing his feelings and frustrations to Shruti.
Without the use any words, Barfi reproaches Shruti for marrying Rajiv just because he has money, for being a coward and choosing the easy path. He may be deaf, mute and poor but he has a lot to offer. Shruti knows he is right and burst into tears, which softens Barfi. He asks for forgiveness and congratulates Shruti for her engagement. He tries to make her smile for the last time and leaves.
Why it is special:
This scene is one of the highlights of the film as it is a turning point in the story. Ranbir Kapoor dominates the scene with his amazing acting skills and manages to show his character's serious side. Happy and nonchalant Barfi appears hurt and frustrated. The audience feels his pain and how Shruti's rejection is going to affect the character's evolution. It is incredible how in a scene with no dialogue and hardly any background music so much can be said, an aspect that Anurag Basu manages to display during all the film, and that makes Barfi! a brilliant and touching film.