Choosing a single favourite scene from the hundreds of Bollywood films I have watched over the years seemed like an impossible feat. But as I searched my memory for those favourite moments, this particular scene from the fairly recent English Vinglish popped up and what better scene to write about, than one which made me watch the film a second and third time round.
English Vinglish was Sridevi's comeback film after 15 years and in my opinion one of the best films of 2012. The film boasted a perfect balance of drama and comedy but didn't forget to pull on our heartstrings with a sufficient magnitude of emotion thrown into the mix. Director, Gauri Shinde, subtly managed to teach us the importance of respect, being non-judgmental and the power of pursuing a goal with dedication.
The film centres around an Indian housewife who embarks on a quest to learn English. Shashi Godbole (Sridevi) travels to New York for her niece's wedding but experiences difficulties in communication at every possible juncture – at the airport, on the plane, in a coffee shop, on a train…everywhere! Shashi therefore decides to fulfil her dream of learning English and joins a crash course on which she meets new people, makes new friends, gains confidence and discovers herself and the wealth of what she has to offer to the world.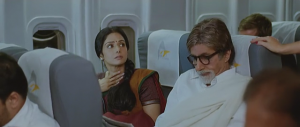 The Scene:
Shashi (Sridevi) is urgently talking to her husband on her mobile phone in her airplane seat to New York and she informs him with concern that "they" took her water bottle. Immediately, the well travelled amongst the audience warm to Shashi's innocent comment. The air hostess interrupts Shashi's conversation by asking in English "Excuse me maam, can you please switch off your cell phone?". Shashi, confused, apologises and extends her hand holding the mobile phone to the air hostess. The way in which Shashi nods and shakes her head in her bewilderment at the English being spoken as well as the unknown formalities of flying sets the tone of the scene perfectly.
We are introduced to Shashi's co-passenger, a polite gentlemen, played by Amitabh Bacchan. Amitabh immediately recognises Shashi's uncertainty as to how to get a glass of water that she so desperately needs and sweetly informs her that the 'call' button is at her disposable for her uninhibited and unlimited usage for the duration of the flight. It doesn't take long for us to warm to Amitabh's friendly character and we appreciate the kindness that Shashi is shown.
The scene fast forwards to mealtime on the flight. Amitabh is already comfortably sipping on a glass of red wine as Shashi is awakened by the air hostess asking whether she would like a veg or non-veg meal. While this question is answered without much deliberation, the next question posed to Shashi seems to be a little more challenging:
"Would you like some Chardonnay or Merlot with your meal?"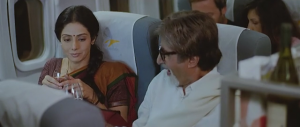 Once again, Amitabh jumps to the rescue and suggests that a glass of wine would be a good addition to her meal as it is "good for health". The audience shares Shashi's first sip of wine with her and we are drawn yet again to her unpretentious reaction to the new taste she experiences.
The final sketch in the scene is undoubtedly the highlight. Shashi is distraught as she has already seen the only Hindi film playing on the in-flight entertainment system. Amitabh switches her screen so that the same film is playing on both their screens and tells her there's no need for her to wear her headphones. What ensues, is a hilarious Hindi voiceover to the film Source Code by Amitabh. He changes his voice for the male and female characters and gets so involved in relating the story to Shashi that he wakes their fellow passengers up from their shut-eye time with a final magnificent interpretation of some loud sound effects. The scene ends with Shashi giggling at the disruption her co-passenger has caused and the flight lands in New York.
Why it's so special:
There is no denying the magic that happens when two powerful actors come together on screen. Sridevi and Amitabh are arguably two of the best actors Bollywood has ever seen and their chemistry on screen is just brilliant. Acting expertise aside, the screenplay is a delight to watch and it is impossible not to smile throughout Amitabh's sensational delivery of dialogue. Shinde has done a fantastic job of piecing together some priceless moments which slowly build to a climax of clean, light-hearted humour.