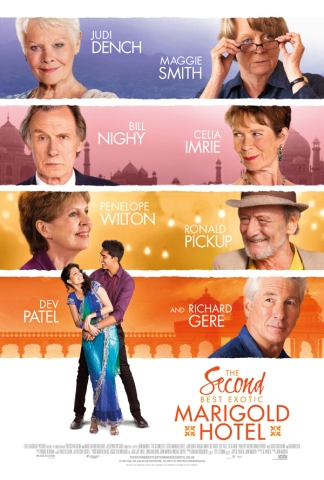 A sequel and continuation from the fun and frolics of The Best Exotic Marigold Hotel (2011), The Second Best Exotic Marigold Hotel is a film set to entertain.
Unfortunately, that's about it.
Let's begin with the plot. Sonny Kapoor (Dev Patel) and Muriel Donnelly (Maggie Smith) are the co-managers of "The Best Exotic Marigold Hotel" in Jaipur, India. Their hotel is unique as it serves as a special retirement/finding yourself sanctuary. The two co-managers have the ambition to expand, an ambition met with hoops to jump through. Pivotal to the story is Sonny's wedding to Sunaina (Tina Desai). A wedding comes armed with beautiful clothes, lots of dancing and oh yes – high octane drama. From the beginning, jealousy and insecurity are the driving force in most of the relationships, indeed interesting areas to explore.
Nonetheless, the film is left half-baked, without spark. This is disappointing as the concepts portrayed are powerful, including: the taboo of falling in love during later years; the reality that we never stop learning life lessons no matter what your age; or the liberating realisation that it is never too late to live the life one always had desired.
It is a shame that despite a stellar cast, stunning location and untapped profound moments, TSBEMH just does not live up to potential. The film stays with the viewer for a meagre hour post watching, followed by the content quickly and disappointingly drifting away.
One factor is the cramming of too many love lives in 123 minutes running time. Some lives/love stories feel underdeveloped and rushed, depriving the audience of making a true rapport with the heartstrings.
A look at the cast justifies high expectations. The cast includes Dame Maggie Smith, Dame Judy Dench, Bill Nighy, Celia Imrie, Ronald Pickup, Diana Hardcastle, Tamsin Greig, Lillete Dubey, Dev Patel, Tina Desai, Shazad Latif and the highly anticipated Richard Gere.
In terms of performance, Dame Maggie Smith and Bill Nighy steal the show. Smith holds her presence graciously; one look from her and the plot develops a full course. Nighy brings out the beautiful vulnerability of his character, making his mark on the viewer. Dame Judy Dench was not given enough room for her character to grow, therefore not being able to fully display her extraordinary talent. Richard Gere was his usual charming self – nothing out of the ordinary. Dev Patel mastered the clumsy yet cute Sonny, though at times, his character was cheesy. Tina Desai was brilliant with the Bollywood moves as was Shazad Latif, performances (and characters) being average.
Missed opportunities let down the film in terms of character development – especially when it comes to a sensitive moment shared between Sonny (Patel), Mrs Kapoor (Dubey) and Guy Chambers (Gere).
Also, what to mention of location. The film was shot in stunning Rajasthan. There is not one shot that truly moved and did justice to the land.
An emotional connection fails to be forged between the characters on screen and the audience – vital for a film exploring numerous lives and that thing called love.
With dialogue such as "Not only can you be anything you want to be, you have no idea what you will become. Don't try to control it. Let go. That's when the fun starts", the film could have been immensely poignant and inspirational.
It seems this one would make a better script than a film.