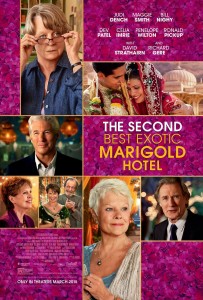 The India-set comedy The Second Best Exotic Marigold Hotel opened strong at number three at the U.S. box office with an estimated $8.6 million in its first weekend of release, according to data released by its distributor Fox Searchlight. India-themed films rarely climb this high on the U.S. box office charts. Even Hollywood studio films such as Life of Pi, The Hundred Foot Journey, and Million Dollar Arm never made it to the top three at any time during their runs despite playing in more theaters than Marigold.
The new film also scored the highest average gross of any film in wide release averaging $5,467 from 1,573 theaters. After the success of the opening weekend, The Second Best Exotic Marigold Hotel will add more than 200 additional theaters to its run on the second weekend.
The Second Best Exotic Marigold Hotel is the follow-up to the 2012 hit The Best Exotic Marigold Hotel which opened in the U.S. in limited release in 27 theaters before building word-of-mouth and eventually reaching nearly 1,300 theaters nationwide. It spent seven weeks in the top ten – peaking at number six – and finished its U.S. run with $46.4 million.
Judi Dench, Maggie Smith, Dev Patel, Tina Desai, Lillete Dubey and others all returned for the sequel which added Richard Gere to the cast.
SYNOPSIS: The Second Best Exotic Marigold Hotel is the expansionist dream of Sonny (Dev Patel), and it's making more claims on his time than he has available, considering his imminent marriage to the love of his life, Sunaina (Tina Desai). Sonny has his eye on a promising property now that his first venture, The Best Exotic Marigold Hotel for the Elderly and Beautiful, has only a single remaining vacancy posing a rooming predicament for fresh arrivals Guy (Richard Gere) and Lavinia (Tamsin Greig). Evelyn and Douglas (Judi Dench and Bill Nighy) have now joined the Jaipur workforce, and are wondering where their regular dates for Chilla pancakes will lead, while Norman and Carol (Ronald Pickup and Diana Hardcastle) are negotiating the tricky waters of an exclusive relationship, as Madge (Celia Imrie) juggles two eligible and very wealthy suitors. Perhaps the only one who may know the answers is newly installed co-manager of the hotel, Muriel (Maggie Smith), the keeper of everyone's secrets. As the demands of a traditional Indian wedding threaten to engulf them all, an unexpected way forward presents itself.