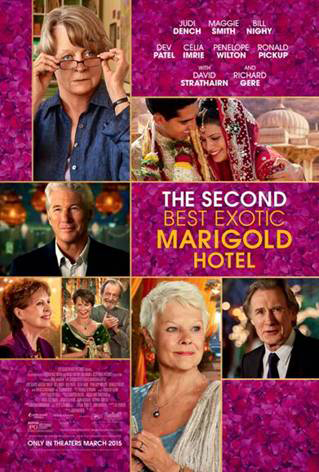 On a mid February evening, Leicester Square was draped in pink and orange, the colours of Rajasthan. Although the heat of Rajasthan was certainly absent, with the London air becoming increasingly biting, one could have been stood in India at a wedding.
The air heavy with Bhangra and Bollywood beats, archways protruding with colourful marigold flowers, it was time to celebrate the world premiere of The Second Best Exotic Marigold Hotel!
The evening was one full of fun and celebration.
Karan's Bollywood Masterclass (KBM) built up the anticipation and entertained the public waiting with their slick Bollywood moves to beats such as Taal, Nagara Sang Dhol and Malang.
Gracing the orange carpet were the cast and crew of the film including Dame Judi Dench, Dame Maggie Smith, Celia Imrie, Ronald Pickup, Tina Desai, Lillete Dubey, Diana Hardcastle, Shazad Latif, director John Madden, writer Ol Parker and producer Graham Broadbent.
The world premiere was also attended by guests such as Thandie Newton, Sofia Hayat, BBC Asian Network's Nihal and Claire Sweeney.
Not only that, but the Royal guests included HRH Prince Charles and Duchess of Cornwall, Camilla.
BollySpice's Aashi Gahlot had the opportunity to catch up with The Second Best Exotic Marigold Hotel's Lillete Dubey (playing Mrs Khan, Shazad Latif (playing Kushal), co-producer Graham Broadbent and guest Sofia Hayat (British actress, model and singer).
Aashi was joined by NRI's Shai Hussain and Asiana's Fariha Sabir (questions asked by respective journalists are highlighted clearly).
We discuss what it was like filming in India, favourite Bollywood films and stars, dance moves and more!
Read on to find out more and don't forget to check in- The Second Best Exotic Marigold Hotel will be releasing on February the 26th.
Graham Broadbent (Producer)
Aashi Gahlot (BollySpice): What was it like filming in India?
Well it was funny because I'd already filmed the first film there. I produced with my partner Pete Czernin The Best Exotic Marigold Hotel, so The Second Best was a sort of repeat experience – same cast, same director, same screen writer, same location – so actually it was a delightful thing to do, to be back there doing what we did again.
Aashi (BollySpice): Do you have any favourite Bollywood films?
You know what! What I would've loved to have done is to go to India on holiday and then I could have just watched a lot of films. But actually I'm pretty ignorant on Bollywood films and am open to education.
Aashi (BollySpice): Oh gosh you need to watch Bollywood – it's the best!
Yeah, okay!
Shai Hussain (NRI): What did you love most about India?
Well – I've been to India a number of times. I went for a gap year after University; I went when we made the first film and when we made this film. I love the country. I love being there. We worked with a wonderful huge Indian crew, 350 people. To me, it's a country of generosity of spirit, extraordinary people – obvious complications but it's a wonderful place to be.
Fariha Sabir (Asiana): Does it feel like home now because you've been there?
It feels very familiar which is very strange. Honestly, going back to the Marigold hotel, 2.5 years later on was a very strange experience I have to say.
Shazad Latif (Kushal)
Aashi (BollySpice): We watched the preview of The Second Best Exotic Marigold Hotel today and you were an amazing Bollywood dancer. Do you have any Bollywood plans?
Nah, I think that's enough now! Enough Bollywood for me to do it. I like watching it but yeah it was tough. It's much harder than normal dancing!
Aashi (BollySpice): What's your favourite Bollywood flick?
Kuch Kuch Hota Hai
Shai Hussain (NRI): Are you a fan of Bollywood music?
I like Bollywood music a lot. I'm more of a film fan… I love going out and dancing.
Shai Hussain (NRI): How was it being out in India?
You can't put a price on that. India's a beautiful, spiritual place. Everyone should experience it.
Fariha Sabir (Asiana): Were you reluctant to play the baddie?
It's good to play the bad guy! It's exciting. It's a very expressive part.
Aashi (BollySpice): Could you describe Dev Patel in two words?
Bouncy Tigger. He's like Tigger. He's got that bouncy energy. He's got great energy and nice to be around.
Shai (NRI): What's next for you?
I've got a crazy comedy series – we just won best new comedy. And then a 6 part BBC drama and then another film with Dev, a very small part period piece.
SOFIA HAYAT (British actress, model, singer)
Aashi (BollySpice): Your favourite Bollywood of all time?
Mother India – it's one of the first films about female empowerment! Come on! She worked off the land. She did everything a man did and better, you know! She brought the land back to fertility.
Aashi (BollySpice): What about your favourite Bollywood actor and actress of all time?
Amitabh Bachchan. He did wink at me on an aeroplane once! He's hot. He's still hot.
Actress… it's a difficult one. Because now I think we are getting a lot of good actresses. I mean Bipasha Basu has come up a lot. Priyanka Chopra has also come up a lot. Despite them being beautiful glamorous women they have been given the opportunity now to play roles that aren't just about being a pretty woman. Hema Malini, I like the old school actresses as well, so yeah.
Aashi (BollySpice): If you could play any Bollywood role, what would it be?
I would play Mother India and Umrao Jaan – I think that's a beautiful, beautiful film.
Fariha Sabir (Asiana): Is India home now?
Well I took a year off work – I was four years there. I've just come back. Basically I threw myself into spirituality, bought a dog and a car, decorated my house. I miss my friends. I'm trying not to be in India a lot. Although I'm going back on Friday because I'm shooting a film and I've got meetings… So I'm going to try and stay in India maximum one month, one month here – I want to try and split my time.
Fariha Sabir (Asiana): What film are you shooting?
I'm doing a film, the director is Chandrakant Singh. Neha Dhupia is in the film… Again it is a very female empowered film. They have 6 directors, 6 DOPS, 6 stories within one film! So it's going to be mad. We are shooting in Indore. And we are starting on the 4th of March.
I'm there next week to release my single called 'Mein Ladki Hoon' (I am female), which is again about female empowerment. One of the lyrics – "Meri izzat tere labz se nahin banti" (My respect isn't dependent on your words) "Mein aurat ho, kisi se nahin darti" (I am a woman and not afraid of anyone). So that's my song! I can't wait because I want it to be the Indian song of female empowerment really.
LILLETE DUBEY (Mrs Kapoor)
Fariha Sabir (Asiana): You always look so beautiful and so youthful all the time! We just want to know, what is your secret?! What is your secret?!
Nothing at all! Really nothing! Honestly. Lots of work! Lots of work and good genes.
Shai Hussain (NRI): What was it that you loved most about working on The Second Best Exotic Marigold Hotel?
You know what I loved most about it is working with this cast and crew. Because this cast is a phenomenal cast. It was phenomenal to work with people that I've admired all my life like Judy and Maggie. And Bill – Rockstar completely! …So you know everybody!
What a cast! I don't know how he did it. The way the magicians wand went, he got all these guys together. Then we get Richard Gere, then we get David Strathairn, Tamsin Greig. (Laughs) I know all the women are ready to kill me!
Photo credit for above pictures: Doug Peters/Empics Entertainment