BollySpice is proud to announce a new partnership with Mela, the new multi-platform entertainment service that provides consumers worldwide one of the largest collections of premium South Asian content. Mela has the largest collection of Bollywood movies available over the Internet with over 850 films with more being added regularly. 
 This totally cool service is available now on PC and Apple computers, along with the Mela TV Apps on the iPad (outside India), Roku (Outside India and US), Android, Kindle, Samsung TV and DVD (in Beta). Mela represents the diversity of genres, tastes, languages, and regional flavors present in the rich cultural heritage of South Asia by licensing premium content from some of the biggest movie studios and television broadcast companies in the region. Mela brings premium entertainment that includes dozens of live television channels covering news and entertainment, hundreds of hit Bollywood and regional movies (with an increasing number of titles in high-definition) and hundreds of independent films and selected premium videos from the Internet. In a special promotion, Mela is offering some select films for free for the next month and BollySpice has taken part by sponsoring one of the films!
"Launching on platforms as ubiquitous as personal computers makes Mela even more easily accessible for South Asian cinema fans," said Mela CEO Prakash Bhalerao. "We anticipate that providing movies on Mela.com in partnership with such popular, influential sponsors will prove mutually beneficial, allowing for the sharing and the growing of all of our audiences."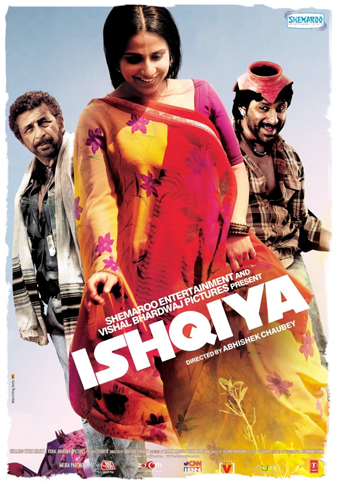 BollySpice is sponsoring the brilliant film Ishqiya on Mela and guess what you can see it for free! Starring Naseeruddin Shah, Arshad Warsi and Vidya Balan, Ishqiya was one of our favorite films in 2010.
You can see the film on http://www.mela.com/bollywood-movies/ishqiya/.
Synopsis: Ishqiya is a story of romance between individuals caught in a web of crime, suspense, passion and deceit.
Two thieves, Khalujan (Naseeruddin Shah) and Babban (Arshad WArsi), are on the run from their boss, Mushtaq (Salman Shahid). They seek refuge with an old friend and instead meet his widow Krishna (Vidya Balan).
As they plan their escape, their time spent together draws the duo to her, Khalu with his tinted vision of old-fashioned love, and Babban with his lustful eye.
The threat of imminent death forces them on a pathc of violence and betrayal. Set in a rural landscape, Ishqiya explores basic human emotions as influenced by desire, greed and revenge.
Mela provides fantastic quality and we are delighted to be part of this great sponsorship. So, click on over to Mela on your computer or download the cool app on your favorite device because if you haven't seen Ishqiya you can watch it in great quality and if you have go, well enjoy it again!
You can find out more about the great service, plans and all the great content Mela offers, including the other free sponsored films on Mela.com!