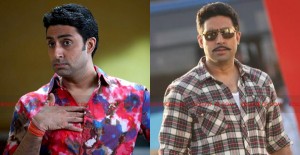 Trust Rohit Shetty to come up with the most interesting ideas in his movies. The latest one being that actor Abhishek Bachchan goes by his full real name in Shetty's much awaited comic caper Bol Bachchan.
As well as assuming his real name, news is that Abhishek Bachchan will be playing not one but two characters on screen and Rohit Shetty thought it would be a fun idea to have one of AB Jr's characters go by his actual name in the film – Abhishek Bachchan.
Fans and industry-experts are excited to see Abhishek Bachchan's antics in this comic caper, as the actor has not been seen in a comedy since 2008.
A source quips: "Audiences will be able to see Abhishek playing two hilariously contrasting characters in Bol Bachchan. There is a lot of curiosity around the fact that one of his character's names is Abhishek Bachchan and also around his dual avatar in the movie. Even the way the two characters dress, talk and walk is extremely unique."
One of the most anticipated films of 2012, 'Bol Bachchan' also stars Ajay Devgn, Asin and Prachi Desai. It is presented by Twentieth Century Fox, produced by Shree Ashtavinayak LFS Infra Ltd and Ajay Devgn fFilms.
Bol Bachchan is released through Twentieth Century Fox on 6th July 2012.