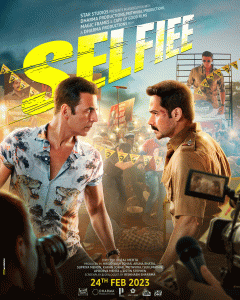 Film Review – Selfiee
Directed by ​Raj Mehta
Produced by​ Hiroo Yash Johar, Aruna Bhatia, Supriya Menon, Karan Johar, Prithviraj Sukumaran,​​Apoorva Mehta, Listin Stephen
Written by ​Rishhabh Sharrma
Starring​ Akshay Kumar · Emraan Hashmi · Nushrat Bharucha · Diana Penty ·
Music by​Anu Malik; Tanishk Bagchi; Yo Yo Honey Singh; The PropheC; Lijo George-DJ Chetas; Vikram Montrose; Aditya Yadav; Tarun
Release ​​24 February 2023 (United Kingdom)
Raj Metha's latest offering is a remake of the Malayalam 2019 blockbuster film Driving License. The story follows film actor Vijay Kumar (Akshay Kumar) who wants a driving licence urgently and his ardent fan, RTO Inspector Om Prakash Aggarwal (Emraan Hashmi), agrees on delivering it illegally but requests a Selfiee in exchange, but things don't go to plan and due to a misunderstanding, a feud develops between them that takes a toll on each other's personal and professional lives.
With the general story revolving around this premise, the film actually runs deeper than that. What follows is an examination of human nature, as a blame game starts and with it the surrounding issues of pride, pettiness and power take control. Fandom and fury end up leading to a high-profile media war over a tiny misunderstanding.
Interesting right?
It isn't the first time that we will be watching an actor portray a superstar onscreen. Saif Ali Khan in Main Khiladi Tu Anari, Shah Rukh Khan in Om Shanti Om, Vidya Balan as Silk Smitha – the list is endless. All these films have one thing in common, their attempt to bring various aspects of a star's life and their connection with the common man to the fore front.
Selfiee makes these very aspects look far more real and relatable because of the story and narrative which don't seem so farfetched. Selfiee isn't just about a feud between a star and an RTO officer, but also their emotional sides as husband, a father and the role they play as a hero. The screenplay keeps you engaged and though there are moments that stretch, they are few. The original story by Sachy has been re written for the Hindi film going audience by Rishabh Sharma and he has made sensible tweaks. The film manages to appropriately capture the present-day realities lived by celebrities, fans and the media and the impact they each have on the other. From the adulation of the army of fans behind celebrities, to the lack of privacy afforded to them, the need to keep people sweet, and the constant media intrusion – which is aptly covered considering the recent events that took place with Alia Bhatt. The bunking of school to catch a film on its first day of release to waiting in crowds to get a glimpse of your favourite celebrity, there is a little bit of us as fans in this film that we can all relate too and Metha has managed to do this well. He is developing a knack for wrapping social messages into his films through underlying themes.
Akshay Kumar and Emraan Hashmi come together for the first time onscreen and it's a pleasure to see them together. I will be honest when I say I wasn't sure how the two would work together, but I would love to see them share the screen again, possibly because of the freshness of it. The script manages to cast both in shades of grey with neither one being the outright hero or villain which is something rare when there are two male leads.
Akshay as Vijay I feel is playing a character so close to himself in real life the line between real and reel gets blurred. Famous for being able to take a joke about himself, the film is littered with these and shows his ability to laugh at himself. From the constant scrutiny regarding the number of films he does in a year, the simple fact that Hindi films are currently not performing as well at the box office of late or his own doctor telling him to do some 'classy films over massy cinema', it all gets a mention.
Emraan Hashmi is back on the big screen after a year and manages to hold his ground in the scenes where he shares the screen space with Kumar. As an actor Hashmi always gets the vulnerabilities and the inferiority complex of the common man right and he does it again here as a father who is embarrassed by a star in the presence of his son.
The two leading men in Selfiee are surrounded by a fresh supporting cast. The leading women in the script are unfortunately neglected. Diana Penty lends quiet dignity to the role of Vijay Kumar's wife despite her limited presence and Nushrat Bharucha who is cast opposite Emraan Hashmi as Minty Aggarwal displays the characteristics of a middle-class wife in the right measure.
Among the supporting cast, Mahesh Thakur as Vijay's manager delivers an on-point performance, Meghna Malik in her role as Vimla Tiwari delivers some funny lines with perfect comic timing. Abhimanyu Singh as Vijay's contemporary is wasted in this script but does provide some comic relief. Paritosh Tripathi and Kusha Kapila have performed well but seem to have characters that appear and disappear on a whim to be honest. A special mention goes to the child artist who enacted Emraan Hashmi's son who captured the emotions of a son so well.
The script isn't perfect, it does falter in places. By attempting to poke fun at so many varying aspects of the film and media industry (much of it is commendable), at some point it becomes too much self-depreciation and it all starts to fall a bit flat which is a shame considering the subject.
The music was okay – it suited the film and the plot, though going straight into a loud song with so many visual effects at the start of the film does annoy me. That is more personal preference though. I have to say it was wonderful to watch Emraan Hashmi and Akshay Kumar do a full dance number. Can a mention that when Main Khiladi Tu Anari released in 1994 Akshay Kumar was 26 and Saif Ali Khan was 23. To see Kumar, perform the same song with the same enthusiasm at age 55 is a treat.
Would I go watch it again, probably not. There are plenty of standout moments in the film that stand alone in themselves, but it was a tad to long for me. Go watch it if you are not tired of watching Akshay do remakes of South Films, it is worth a onetime watch, and you won't regret it.