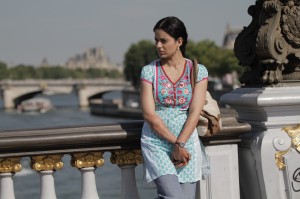 Kangana Ranaut has amazed the audience with her de-glam look, donning simple salwar-suits to portray the role of 'Rani', in Viacom 18 Motion Pictures' upcoming film, 'Queen'. The actor helped the makers in shaping up the character of 'Rani'. Her look in the film is similar to her real-life look, when she used to live in Manali.
Director Vikas Bahl said, "I wanted to make a film on a simple character. I think simple characters have bigger journeys." Rani's journey takes her to Paris on her honeymoon, all alone. On this solo trip, as she meets new people, she rediscovers life. Designers Manoshi & Rushi were responsible for the styling of the characters in the film.
Being from a small-town herself, Kangana could easily relate to her character. Designer Rushi says, "Kangana comes from a small town. So, when we gave her the salwar-kameez and churidars. She said 'Oh! I use to wear this when I was in 11th and 12th standard!" Talking about Kangana's look, Designer Manoshi said "Clothes are specially designed and styled to make her look like 'Rani'. This is where Kangana really helped us out, and she looks beautiful in everything that you make her wear."
Kangana's involvement played a vital role in evolving the character of 'Rani'. As Rushi rightly points out "Kangana is 'Queen'. She is Rani to the core."
Presented by Viacom 18 Motion Pictures, Queen is a Phantom Production. The Kangana Ranaut starrer is directed by Vikas Bahl, and produced by Viacom18 Motion Pictures, Vikramaditya Motwane and Anurag Kashyap. Queen is scheduled for release on March 7, 2014.
We have some cool pics of the actress on the set of Queen!