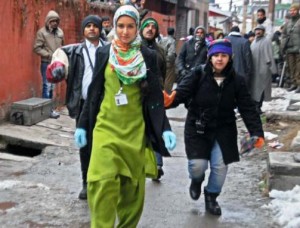 Vishal Bhardwaj and his team are back in the Kashmir Valley to conclude the shooting of his next film Haider. The movie, an adaptation of William Shakespeare's Hamlet, is set entirely in Kashmir. Featuring Shahid Kapoor and Shraddha Kapoor in the lead roles, a first long schedule was held last year when the actors filmed most of the film. Now, Shraddha has returned to Kashmir to resume the shoot. "Back to a snow-clad, freezing-ly beautiful Kashmir. Back to #Haider :)," Shraddha tweeted on Monday.
The actress of Aashiqui 2 was seen with Irrfan Khan shooting a sequence near Residency Road in the heart of Srinagar city and Press Colony. Although information about her character had been kept a secret, Shraddha was spotted wearing a Kashmiri outfit and a press correspondent's card around her neck. On the other hand, in one of the shots Shraddha was seen chasing Irrfan while holding a pen and a diary as if she's asking him some questions. According to TOI, she plays a fearless journalist who doesn't mind risking her life for a story. "Her life motto is to bring out truth at any cost," a source said.
In the meantime, Shahid Kapoor is ready to join the crew in few days. Expectation is high, as the actor will sport a completely different look from what we are accustomed. As TOI recently reported: "Now he will be bald and clean shaven. Since it's a final schedule of the shoot, Vishal asked Shahid to prepare himself mentally and physically for a vital sequence."
The actor, anxious about the filming, shared his feelings on Twitter last Sunday. "Reading scenes for the final schedule of Haider. Nervous and excited. Last four days of hair I can run my hands through. Snowed out Kashmir calling."
The shooting of Haider is planned to go on for about three weeks and will take place in Srinagar, Nishat Gardens and Pahalgam. The Kashmiri Police in Srinagar has been seen on the sets, probably in an attempt to avoid a repetition of what happened during the last schedule when student protests at the University of Kashmir led to the temporary cancellation of the shoot.
Haider is scheduled to be released on September 16, and is one of the most anticipated films of the year as Vishal Bhardwaj has proved to do a great job in adapting Sheakespeare's work in the past, Maqbool and Omkara being some of his most remarkable films.