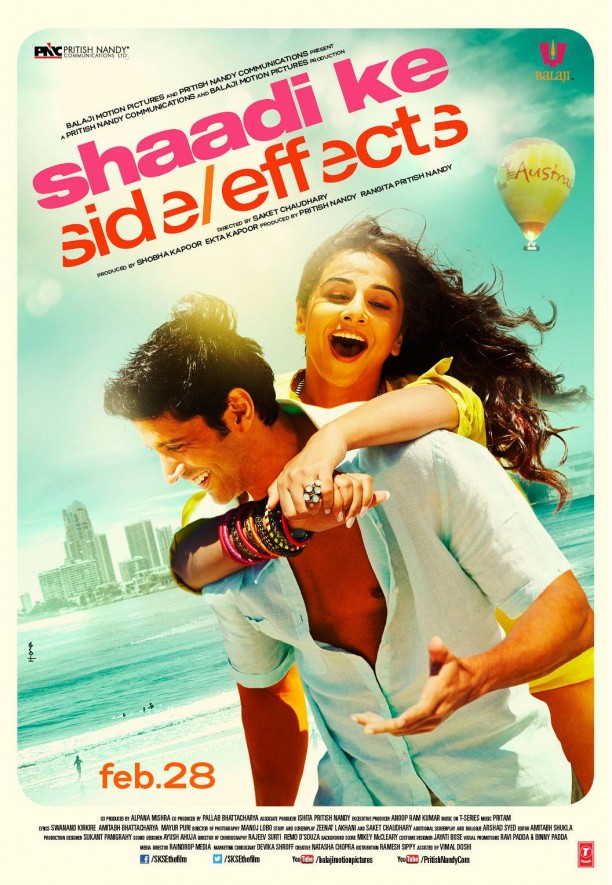 Shaadi Ke Side Effects sees two Bollywood heavyweights, actor-director-producer-musician extraordinaire Farhan Akhtar (Bhaag Milkha Bhaag) and the incorrigible Vidya Balan (Kahaani) come together for a comedy about the struggles of a young married couple to keep the spark of romance alive as their family life progresses.
Pritam, yet another Bollywood heavy weight fresh off his success of Dhoom 3, is at the helm of the film's soundtrack with Amitabh Bhattcharya as lyricist. The 12-track album features the vocal talents of Neeti Mohan ('Jiya' – Jab Tak Hai Jaan), Arjit Singh ('Tum Hi Ho' – Aashiqui 2), Mohit Chauhan ('Sadda Haq' – Rockstar) and Farhan Akhtar (Rock On!!) amongst others.
Harry's Not A Brahmachari is loud and ordinary. And having 3 supposedly different versions of it does little to change that opinion.
I'm Sorry Par Tumse Pyar Ho Gaya has several likeable elements and mostly eliminates the bad first impression from its predecessor. Nikhil Paul George's lazy-cool vocals interspersed with Neeti's and Mira's gives the track a fresh feeling. The rhythmic music is just the right speed to bop along to while being easy on the ears. Lyrics are sweet and simple. And just like that things start looking up for this album.
Tauba Main Vyah Kar Ke Pachtaya is the 'shaadi' version of 'Tauba Main Pyaar Kar Ke Pachtaya'. It has little new to offer, not because it's a derivative of an old track but because its contents suffer from a serious case of been-there-done-that. It basically goes through the whining and moaning of recently married man about the supposed confines of the institution. If not offensive (ever heard of wives crooning about the challenges of married life and/or motherhood), it is plain boring. Further, a happily married man may argue it is a gross generalisation. Political correctness aside, musically it's a mediocre track and therefore it fails admirably. Its Punjabi counterpart is equally unremarkable.
Desi Romance's appeal lies in its lyrical fusion that is brilliantly emphasised by vocal dynamic of Suchi and Arjit. The techno interludes intertwined with the softer ones is an impressive touch and saves the track from being relegated to a run of the mill romantic or dance track. It packs a punch and a kiss.
Farhan's Yahaan Vahaan is brilliant in its simplicity and where Farhan's prior numbers were arguably an acquired taste, this track is very much a safe yet entirely likeable track. It has an unplugged vibe to it and the reprise spices the track up a bit. In doing so, it gives listeners a decent alternative to both tracks, making both tracks equally enjoyable.
Bawla Sa Sapna is a wonderfully sweet number sung with equal amounts of sugary charm by Mohit Chauhan. The lyrics are endearing in their childlike innocence and the idea of a story about a wayward dream is quite ingenious. As if the song wasn't cute enough, Diva's heartfelt rendition makes it even more so.
Ahista Ahista is the album's only morose track. It is aptly written and scored but falters slightly on Farhan's part as there are parts where his vocals are stretched thin and/or at odds with the music. Nevertheless, his technical deficiencies are masked to an extent by the emotions he infuses in the rendition. The track could have been optimised if left to the devices of a more seasoned vocal artist.
In summary Shaadi Ke Side Effects is a strictly sound album. After chartbusters like Yeh Jawaani Hai Dewaani and Dhoom 3 this Pritam creation is quite underwhelming in comparison. The supposed crowd pleasers (Tauba Main Vyah… and Harry's Not A …) are mediocre at best but far from total write offs. However, the remaining tracks more than make up for it, I'm Sorry, Yaahan Vaahan and Desi Romance in the lead. Ahista Ahista could have fared better with a different singer while Bawala Sa Sapna maybe a little too situational for mass appeal.