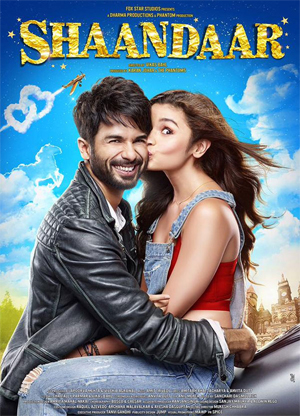 Shaandaar is the much anticipated romantic comedy directed by Vikas Bahl. Starring superstars Shahid Kapoor and Alia Bhatt in the leading roles, the film is scheduled to release in cinemas worldwide on 22 October 2015. The music to the film has been composed by Amit Trivedi, with lyrics by Amitabh Bhattacharya and Anvita Dutt. So is the music to Shaandaar worth listening? Read our review to find out what we thought of it.
So to start off we have Shaam Shaandaar by the multi-talented Amit Trivedi. I like how the song kicks off with a bang, with some nice uses of big band instruments such as the dhol drums and the trumpet. However, once the song transforms in to an all-techno composition, I think this is when I start to lose interest. Although Amit's vocals are great (and always have been), I found the song to be lacking in vibe and therefore did not win me over. It is an average number and one which I think will be forgotten about once the promos are over!
Next up we have Gulaabo, sung by Vishal Dadlani and Anusha Mani. Although it's not an impressive number, it is certainly a major improvement in contrast to 'Shaam Shaandaar'. I very much enjoyed Vishal's vocals and he manages to deliver quite well from beginning to end. I think my favourite instrument in this song is the trumpet and horn, which works very well in this particular track and has a nice thump factor to it. Overall, 'Gulaabo' is nothing ground-breaking, but certainly worth a listen, as it's one of the big highlights of the album.
Following this we have Nazdeekiyaan, which has been performed by Nikhil Paul George and Neeti Mohan. Although I enjoyed the vocals to this song from both singers, I think this song is somewhat bland and does not manage to draw me in. It is no different to the many, many mellow songs which I have heard emerging from Bollywood in recent years. Hence, it is nothing special but may appeal to some sections of music lovers.
Senti Wali Mental is next and has been performed by Arijit Singh, Neeti Mohan, Swanand Kirkire and Amit Trivedi. I do like the composition that has been used for this particular song, which manages to work quite well and gives a strong 'desi' feel to it. I also very much appreciated Arijit's and Neeti's vocals which complement well with the theme of the song. I would say it's the second big highlight of this album after 'Gulaabo' and therefore recommend you check it out!
Finally we have Raitaa Phailgaya, which has been sung by Divya Kumar. This is probably the weakest track in the album and is lacking in a lot of factors which just does not make it a great listen. Sadly, this one could have been a lot better, but fails to impress.
To sum up, I was expecting a lot more from the soundtrack of Shaandaar. Unfortunately, with the exception of a few numbers, this one just did not win me over, in comparison to other albums released this year. It is average overall and could have benefitted from a lot more twists and tweaks in order to make it an album to remember.