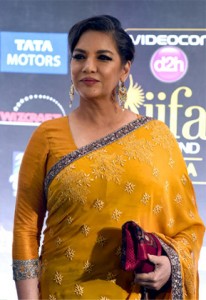 Actress and activist Shabana Azmi participated in a session titled 'Girl Rising Project' during the IIFA Awards last weekend at Florida, US. The actress, who is known for her work on female emancipation, discussed the situation of women in India. "Despite the presence of women everywhere it is sad that female foeticide is practised in India, not only in rural areas but in cities like Delhi, Mumbai. I think women empowerment is important and GDP of a country should be measured to the degree to women being educated," she said.
The actress of Arth also talked about violence against women and claimed that it should not be tolerated. "I feel sad that despite knowing the violent situation in marriage, often women are asked to live with it. There is a pressure to keep the marriage alive. I feel violence against women should not be tolerated," said the 63year-old actor. She stressed the importance of education as a tool to achieve equality between men and women. "Education of the girl should be the first important stepping stone in any society. We need education that doesn't re-enforce patriarchal divides."
Shabana was not the only celebrity to talk about women empowerment. Priyanka Chopra attended the same session, during which the short film Girl Uprising was screened. The film tells the stories of nine girls from different parts of the world who face various atrocities including forced marriage, child slavery and abuse, and shows how they overcome all these obstacles after getting education.
The actress of Gunday is the narrator of one of the segments, the story of Sakina, a slum girl in Kolkata. Other actresses such as Meryl Streep and Anne Hathaway have done voiceovers for other segments in the film, a UN initiative to promote equal opportunities for girl childs. "A girl child is not a burden, and I would like to say educating one girl is like educating a family," Priyanka said.